Thursday, August 3: Join Rep. Huffman for Special Preview of Klamath Art Installation
July 31, 2023
Eureka, CA – On Thursday, August 3 at 9:00am PT, Representative Jared Huffman (D-San Rafael) is inviting members of the press for a special advanced look at the 30,000 Salmon Art Installation at the Morris Graves Museum of Art in Eureka, CA. The installation was first created in 2002 in response to the mass fish kill on the Klamath River. Now, over 20 years later, the installation is being resurrected to commemorate the event and celebrate the hard-fought victory by collaborative efforts of tribal, environmental and governmental entities to finally remove four dams on the Klamath river that have contributed to its decline.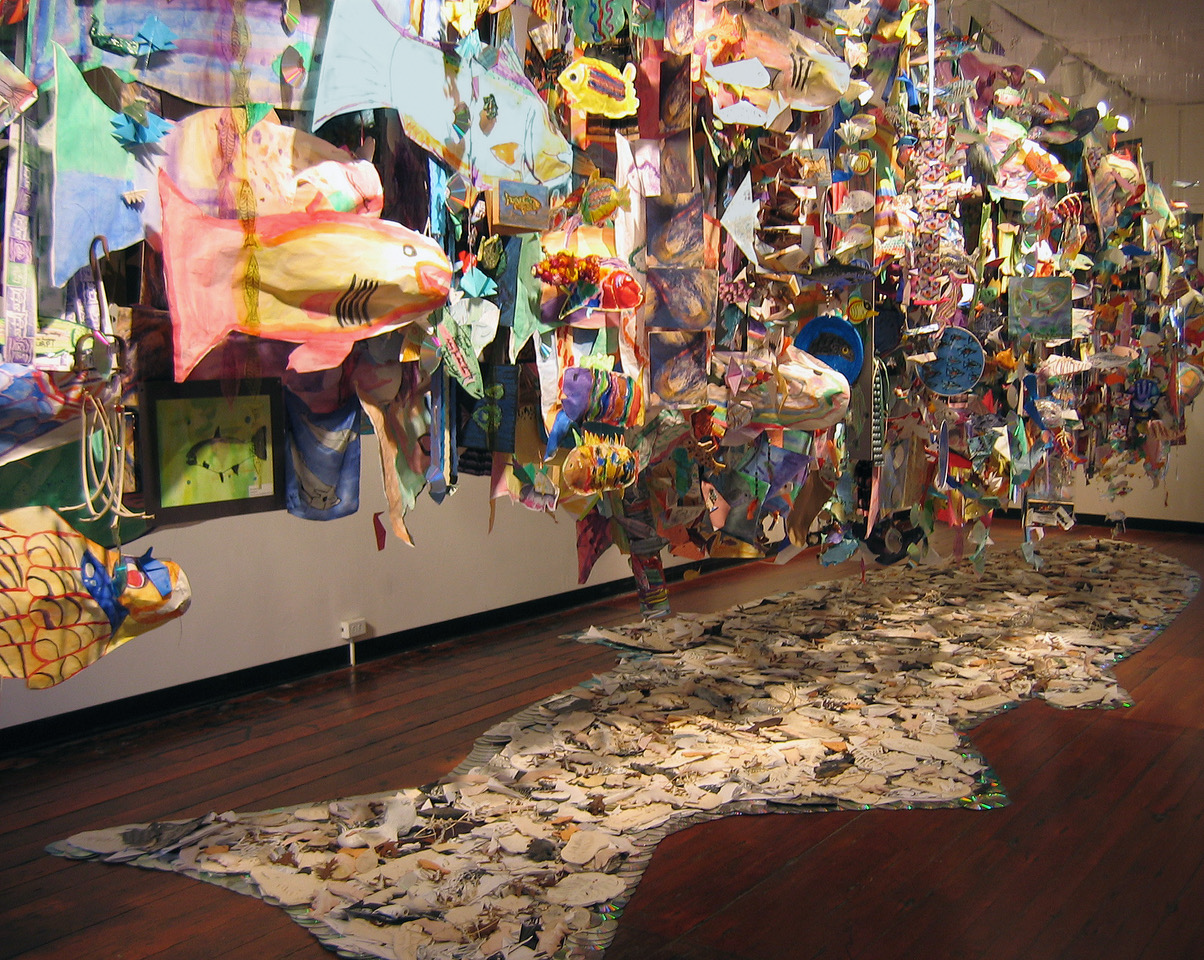 30,000 Salmon at the First Street Gallery in 2004
The 30,000 Salmon installation, made up of small drawings, cutouts, and paper mâché, suspends above objects depicting fish carcasses, scales and bones; and visually illustrates the devastation and decimation that occurred. It also demonstrates the interconnectedness of community and the generational impact that the participating children had as they contributed to the project two decades ago only to witness an objective that many never thought they would see in their lifetime.
Members of the press interested in attending should send their RSVP to Mary Hurrell at mary.hurrell@mail.house.gov.
Event Details:
WHAT: Special Preview of Klamath Art Installation with Representative Jared Huffman
WHEN: Thursday, August 3 at 9:00-9:30am PT
WHERE: The Morris Graves Museum of Art, 636 F Street, Eureka CA 95501
On November 17, 2022 the Energy Regulatory Commission, or FERC, approved the surrender of the license for four hydroelectric dams on the Klamath River. The order was the last major regulatory step before the dams could be decommissioned, and the removal is currently underway. This marked the start of the largest dam removal project in U.S. history, and signifies the collaborative efforts of tribal, environmental and governmental entities.
Rep. Huffman has been an active partner in the efforts to remove the Klamath River dams. Following signs in July 2020 that PacifiCorp may walk back its commitment to dam removal, Rep. Huffman, who served as Chair of the House Natural Resources Subcommittee on Water, Oceans, and Wildlife at the time, held a public forum to examine the terrible impacts the dams have had on salmon and downstream water quality. In September of that year, he successfully offered an amendment to the Clean Economy Jobs and Innovation Act, which was approved by the House, to safeguard Tribal communities against further harm to the Klamath River and its ecosystem caused by PacifiCorp's delays.
For more information on Rep. Huffman's work, visit huffman.house.gov.
---
---
Next Article
Previous Article