On the Road and Meeting with Constituents: A Message from Rep. Huffman
April 26, 2023
Hello,

The statewide closure of the California Salmon season is bad news for our region. The impacts on the North Coast and our fisheries, tribes, and coastal communities are significant. My colleagues and I are committed to securing disaster relief quickly, while we simultaneously work on the the long game for species recovery.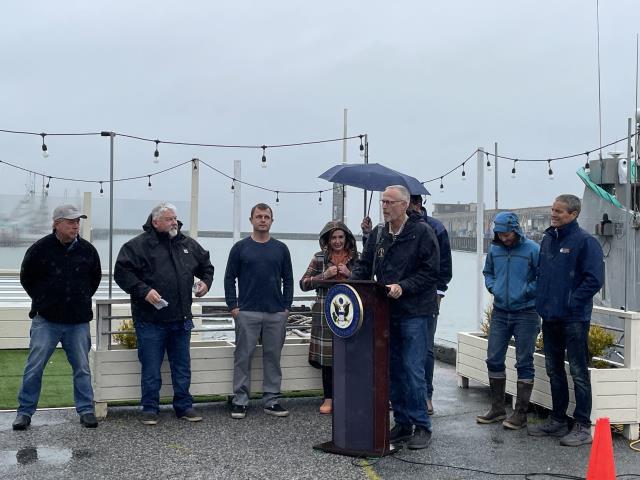 Rep. Huffman speaks at the press conference on the California salmon season closure. 
I recently led a press conference with state and federal leaders, local fishermen, and stakeholders to bring attention to this disaster and highlight the folks who will bear the brunt of the consequences. I also worked with Senator Alex Padilla to send a letter to President Joe Biden and Secretary of Commerce Gina Raimondo, calling for them to swiftly declare a federal fishery disaster. The good news is that in the last Congress my bill, The Fishery Resource Disasters Improvement Act, was signed into law, and it makes improvements to provide fishermen with disaster relief more quickly. I also secured $300 million for fishery disaster relief in the appropriations bill, and I'm going to make sure we get our fair share. I have a lot more legislation in the pipeline to not only assist with recovery, but also get to the root problems of our dwindling fish populations so we can finally put an end to these unnecessary disasters. We're in this together for the long haul, and I will do what it takes to make sure we get out of this on the other side. 
Other Priorities I'm Working On: 
Engaging with Constituents: I recently hosted a town hall in Sonoma with my colleague, Congressman Mike Thompson. We shared an update on the latest developments in Washington and answered a wide range of questions from our constituents. I greatly appreciate every opportunity to speak directly with folks back home about the issues they are passionate about. If you weren't able to join, you can watch a recording here.  
Protecting the Arctic: In response to the Biden administration's decision to approve ConocoPhillips' Willow Project, a massive oil and gas development in Alaska's North Slope, I led a letter with Reps. Jamaal Bowman and Alexandria Ocasio-Cortez urging Secretary Deb Haaland to immediately suspend the construction of this disastrous project. As the climate crisis continues to accelerate, the last thing we need is a new fossil fuel development on pristine public lands, home to vital ecosystems and resources that indigenous communities and wildlife depend on. Millions of activists are still fighting against this decision, and I'll continue to stand with them.  
Touring the North Coast: During the recent California work period, I spent time meeting with community members across our beautiful congressional district. I attended the American Council of Engineering Companies' award ceremony to honor folks for their outstanding achievements in engineering and infrastructure projects, and I was able to share with them news about investments in STEM that we made last year through the CHIPS and Science Act. Additionally, I convened a roundtable on infrastructure in Marin City with community leaders and representatives from government partners and agencies, who are working on projects to upgrade long neglected infrastructure. We heard updates on important projects and discussed ways to ensure that federal dollars are used to support their work. Lastly, I stopped by the site of one of our 2022 Community Projects, the veterans housing and workforce development program at Homeward Bound of Marin. With funds I helped secure, they're breaking ground on 50 units. It's great to see these federal funds in action, serving veterans in our community!  
Helping You  
Whether it's help working with a federal agency, or providing information about legislation and policy, don't forget – my staff and I are here to help. Below is an example of some of the work my office has done to help our constituents.
I contacted Rep. Huffman's office because my granddaughter—who I care for-- hadn't received Social Security dependent benefits for more than three years.  Social Security had agreed to have me serve as Representative Payee, but even after I contacted them multiple times, they had not corrected my bank account information or deposited her back pay. Rep. Huffman's staff was able to get the Social Security payment center to respond promptly, update my bank account, calculate what my granddaughter was owed, and get us these much needed funds. I am very relieved to finally have this resolved so we can move forward and plan for her future. 
- Gloria, Willits 
If you're in need of assistance, you can submit a Casework Authorization Form on my website.
To keep up with the work I am doing as your representative, please subscribe to my newsletter, and follow me on Facebook, Twitter, and Instagram.  
   
Thank you, and stay well,   
   
Jared Huffman   
Member of Congress   
---
---
Next Article
Previous Article