I'm Standing Up to Big Oil and Delivering Major Investments for the North Coast: A Message from Rep. Huffman
April 07, 2023
Hello,
Last week, we voted on House Republicans' top legislative priority: The Polluters Over People Act (H.R 1). We must do everything we can to shore up our domestic energy supplies and speed up our transition to a clean energy future, but unfortunately this bill misses the mark, which is why I voted against it.
I want to highlight just a few of the provisions that made this bill a non-starter for me. H.R. 1:
Forces agencies to hold oil and gas lease sales on public lands, even if they aren't needed. If these sales don't get enough bids, replacement sales must be held – 

giving our public lands away at cut-rate prices.

Lets mining companies keep taking minerals from public lands

without paying a single dime to the American people

or even helping pay the billions needed to clean up their toxic messes.
Completely erodes the new chemicals review process under the bipartisan Toxic Substances Control Act (TSCA),

allowing new chemicals – even PFAS – on the market without any consideration of safety.

Repeals the $4.5 billion home electrification rebate program

and the

Greenhouse Gas Reduction Fund

– a $27 billion program to deploy clean energy projects and cut greenhouse gas pollution – robbing the American people of lower energy bills, well-paying jobs, and a healthier future.
My Democratic colleagues and I passed the largest investment in climate action last year through the Inflation Reduction Act, which includes $1 billion to streamline permitting and all kinds of clean energy investments. We also need more efficient procedures to bring more renewable energy online, and to modernize and upgrade electricity transmission facilities, which is something I'm making a priority this Congress.

There are real, workable solutions to addressing our energy needs, extreme weather, food insecurity, and all the downstream consequences of climate change. But this package is not it, and I am committed to making sure we get those real solutions across the finish line.
Other Priorities I'm Working On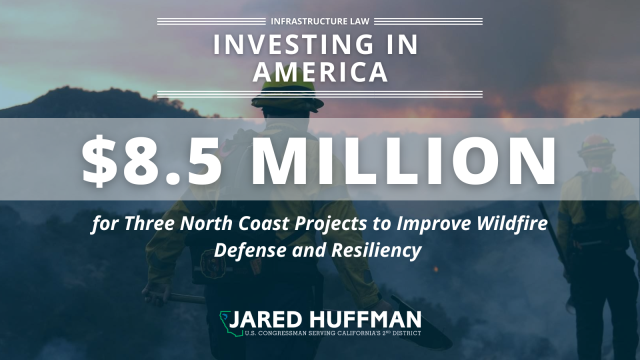 Delivering Funds for Wildfire Defense, Clean Water, and More:

I'm pleased to share that over $8.5 million is headed to the North Coast for wildfire defense and resilience programs. Thanks to the funding Democrats were able to include in the Bipartisan Infrastructure Law, three great wildfire resiliency projects in my district are receiving critical funds to keep our region safe. Also announced this week was $54 million to CA for essential water infrastructure upgrades and $65.9 million for the Trinity River Hatchery to modernize its outdated systems.

Accelerating Clean Energy:

Along with my colleagues in the Congressional Progressive Caucus, I recently launched the Accelerating Clean Energy (ACE) Task Force. We're going to develop a blueprint to ensure the historic clean energy investments Democrats passed over the last two years through the Inflation Reduction Act and the Bipartisan Infrastructure Law are implemented as swiftly and effectively as possible.

Working with the White House:

Last week, I joined fellow members of the Regional Leadership Council (RLC) for a meeting at the White House with key officials in the Biden administration, where we discussed our work to ensure folks across the country have the right information on what's available to them so they can reap the benefits of the landmark laws Democrats have passed since President Biden took office. In case you missed it, I prepared this comprehensive guide to help you navigate funding: Grant Summary Guidebook

Touring the North Coast:

This week, I spent time in Humboldt engaging with community members. I visited Healy Senior Center in Redway, who have provided thousands of meals to local seniors, toured Food For People's new facility in Eureka, and stopped by one of our recent grant awardees, Briceland Volunteer Fire Department.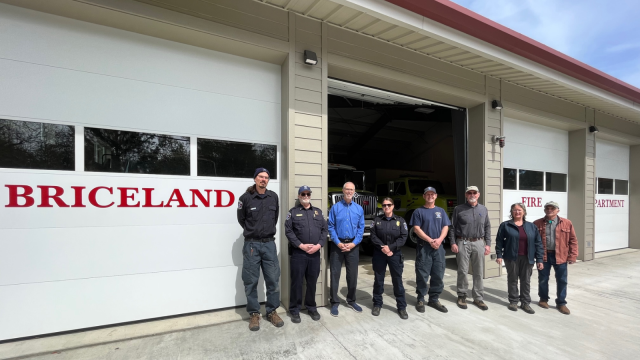 Rep. Huffman stands with Briceland Volunteer Fire Department at their new facility. 
Helping You
Major investments are heading our way thanks to historic legislation signed into law during the last two years under the leadership of President Joe Biden and Democrats in Congress. Here's one example of how these investments and grants are helping folks on the North Coast:
"The Briceland Volunteer Fire Department covers 40 square miles of densely forested and rugged terrain, with many residents living several miles away from county-maintained roads. Thanks to a generous grant from the USDA, we will be constructing around six miles of shaded fuel break along critical access roads, providing improved emergency access and evacuation routes for hundreds of rural residents. Together with other wildfire defense projects in adjacent districts, we hope to greatly reduce the risk of catastrophic wildfire in southern Humboldt County."
-- Briceland Volunteer Fire Department Public Information Officer Camilo Stevenson.
My priority is to make sure our district gets its fair share of these transformational investments. Check out our Grants Summary Guide on the hundreds of grants and programs for which you might be eligible. Keep in mind programs are still rolling out, and this guide and my staff will be good resources for you moving forward.

Whether it's help working with a federal agency, or providing information about legislation and policy, don't forget – my staff and I are here to help. If you're in need of assistance, you can submit a Casework Authorization Form on my website.
To keep up with the work I am doing as your representative, please subscribe to my newsletter, and follow me on Facebook, Twitter, and Instagram. 
Thank you, and stay well, 

Jared Huffman
Member of Congress
---
---
Next Article
Previous Article