Major Wins for our Climate and Environment: A Message from Rep. Huffman
December 02, 2022
Hello, 
 
Last month, I attended the United Nations Climate Change Conference (COP27) in Egypt with Speaker Nancy Pelosi, and I saw how the reality of our worsening climate crisis is changing the conversation on a global scale. The conference buzzed with excitement over the Biden administration's historic climate achievements like the Inflation Reduction Act and Infrastructure Investments and Jobs Act, and our days were packed with discussions on ways to build on these accomplishments. But we know there is still a lot of work to do to meet the goals the world's top scientists tell us are necessary to prevent the worst effects of our warming planet. Tackling the climate crisis will continue to be my highest priority in Congress, and I'm grateful to have constituents that are just as engaged in this moral and economic imperative. You can read more about my experience at this year's COP here.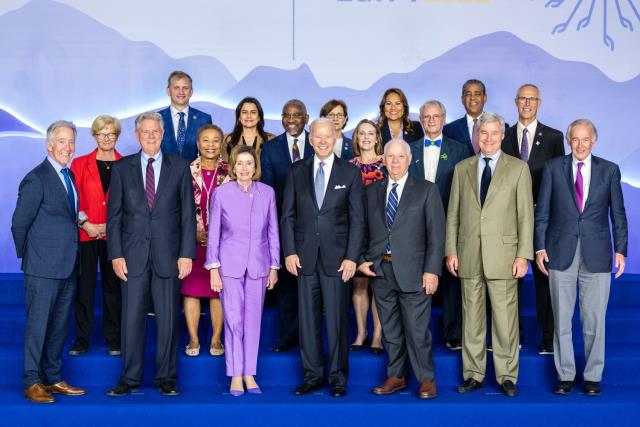 Rep. Huffman attends COP27 with President Joe Biden and Speaker Nancy Pelosi.  
We received some amazing news last month in our fight to restore the Klamath River. The Federal Energy Regulatory Commission (FERC) has issued a decision that clears the way for the removal of four Klamath River dams. This consequential decision is the result of years of difficult work by our dedicated North Coast tribes, conservationists, and the leadership of California and Oregon lawmakers. We know other dam removal projects in the West have seen dramatic beneficial responses for fisheries and wildlife, and the Klamath River has tremendous potential to recover and rebuild as this work is completed. I'm incredibly proud to have worked alongside many colleagues and advocates to right this wrong and restore balance to the river. 
What Else I've Been Working On: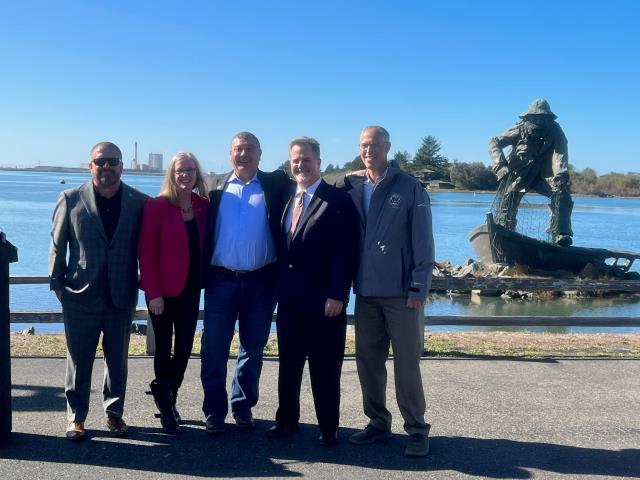 Rep. Huffman attends a press conference celebrating offshore wind.
Promoting Offshore Wind

: During a recent trip to Humboldt, I joined local leaders to announce the new partnership between the Humboldt Bay Harbor District and Crowley Wind Services to bring offshore wind to the North Coast. This historic project will create thousands of jobs, allowing us to both reach climate goals and strengthen the economy.  

Addressing Plastic Pollution:

Along with Senator Cory Booker, I introduced my Protecting Communities from Plastics Act, which would address the plastic pollution crisis that is fueling climate change and exacerbating environmental injustice. My bill would crack down on the plastic production process, establish stricter rules for petrochemical plants, and move our economy away from an overreliance on single-use plastic. 

Honoring Speaker Pelosi and a New Era of Leadership:

As the most accomplished Speaker in American history, Nancy Pelosi has guided House Democrats under her steady, determined leadership for the last 20 years. I have been incredibly lucky to work alongside her for the past nine years serving California and driving progressive wins for the country and our planet. Now, our House Democratic Caucus has elected a new generation of leaders: Majority Leader Hakeem Jeffries, Minority Whip Katherine Clark, and Caucus Chair Pete Aguilar. I look forward to working with these brilliant, history-making members at the helm to deliver for the people. 

Announcing Open Enrollment:

Now's the time to review your health insurance options for 2023. Open Enrollment for health care through Covered California has officially begun and will run through January 31, 2023. You can visit www.coveredca.com to review your health care options.  
Helping You  
Whether it's help working with a federal agency, or providing information about legislation and policy, don't forget – my staff and I are here to help. Below is an example of some of the work my office has done to help our constituents. 
"Thank you to the Congressman and staff for their swift response when my daughter unexpectedly ran into FAFSA account issues only a couple of days before the submission deadline. After spending hours on hold with the FAFSA help center, I reached out to Congressman Huffman's Office for help on his website. The next day, I was on the phone with a staffer who immediately contacted the Department of Education to resolve the problem. Thanks to their prompt and professional response, my daughter was able to get her account working again in time to apply for student aid."  
– Mary Lasher from Corte Madera 
If you're in need of assistance, you can submit a Casework Authorization Form on my website.   
   
To keep up with the work I am doing as your representative, please subscribe to my newsletter, and follow me on Facebook, Twitter, and Instagram.  
   
Thank you, and stay well,   
   
Jared Huffman   
Member of Congress   
---
---
Next Article
Previous Article