Remembering the 2017 Fires, $$ for San Rafael, Addressing Violence Against Indigenous People, & More: A Message from Rep. Huffman
October 31, 2022
Hello,

This month, I stood with friends, families, and survivors to mark the five-year anniversary of the 2017 wildfires in Sonoma. This event rocked our community, leaving an indelible mark on all of us. But it also changed how we prepare for and respond to fires. We've worked to make our homes and landscapes more resilient, and we treat these events with the gravity and swift action they deserve. And we, of course, will never forget the exceptional heroism of our first responders and how neighbors reached out to help one another. It was inspiring to look around and see the tremendous progress everyone has made – truly rebuilding from the ashes, creating a stronger and more resilient community. I'll continue to be a leader in Congress for wildfire support, so we can build on what we've accomplished already.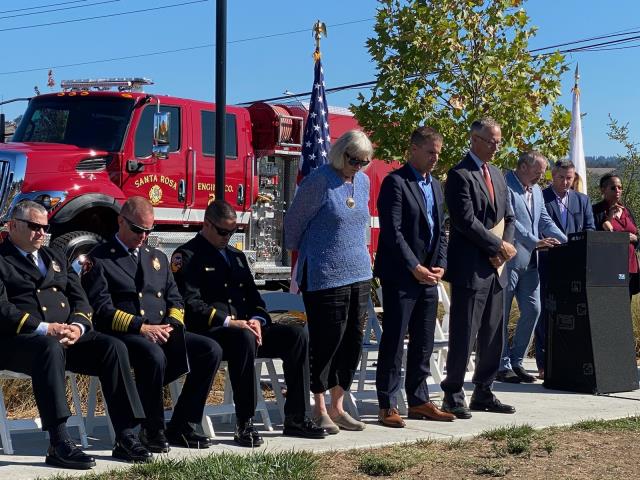 Rep. Huffman joins the community in remembering the 2017 wildfires.
These wildfires also highlight the dire emergency posed by climate change. I'm pleased to report that Democrats have delivered significant progress on climate action. I was able to join Vice President Kamala Harris in San Francisco for a conversation focused on the historic climate wins we've made. Thanks to her, President Joe Biden, and our Democratic majority in Congress, we passed two major laws – the Infrastructure Investment and Jobs Act and the Inflation Reduction Act – making the biggest climate investments ever. These laws pave the way for resilient infrastructure and a transition to clean energy. I'm grateful to Vice President Harris for being a partner and true champion in tackling climate change, and I look forward to continuing that critical work.
What Else I've Been Working On: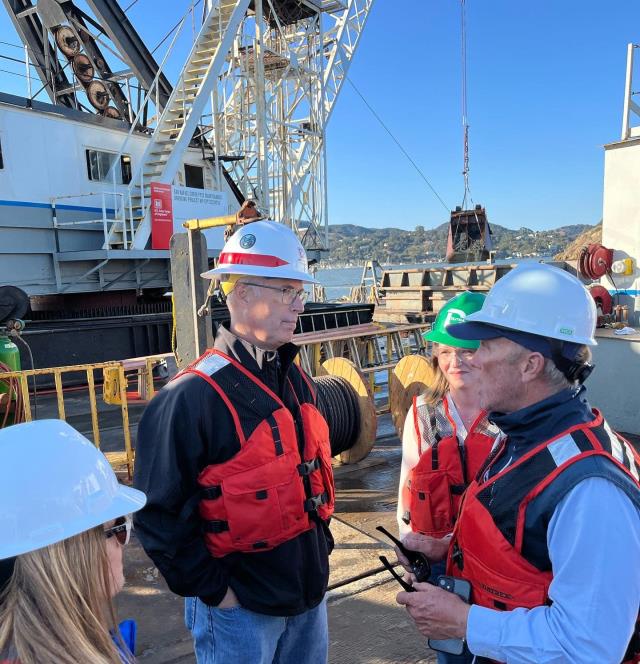 Rep. Huffman visits the San Rafael Channel Dredging project. 
Dredging the San Rafael Channel

: Waterways like the San Rafael Channel have been left to the wayside for decades, getting silted in to the point of being unusable. After years of advocating, I'm glad to have successfully secured the federal funding necessary to dredge this vital channel. There are many recreational, commercial, and public safety problems that come from delayed dredging, and I'm pleased to see the progress already being made by the Army Corps on this urgent infrastructure need. 

Addressing Violence Against Indigenous People

: The Yurok Tribe made history this month with a first-of-its-kind Summit on Missing and Murdered Indigenous People (MMIP). I was honored to attend this statewide policy conference, which brought together tribal leaders, federal and state lawmakers, and MMIP survivors and advocates to discuss this humanitarian crisis ravaging tribes across the country. I'm hopeful that this event will be a catalyst for change at every level of government, and I am deeply proud of this tribe in our district for leading the way.  

Historic Marijuana Reform

: President Biden recently took historic action for criminal justice by announcing a full and unconditional pardon of all prior federal offenses for simple possession of marijuana. For far too long, failed federal drug policies have torn apart families and created undue burdens and barriers for folks. This is a huge step forward as we work towards removing antiquated regulations. On that same front, the House passed the Marijuana Opportunity Reinvestment and Expungement Act, which decriminalizes marijuana at the federal level, and I also recently introduced the

Small and Homestead Independent Producers (SHIP) Act

to allow small, family farmers to ship their products directly to consumers. 

Celebrating the Lynn C. Woolsey Post Office

: This month, we officially renamed the Petaluma post office in honor of my predecessor, former Congresswoman Lynn Woolsey. In her 20 years of service in Congress, Woolsey was a passionate voice for progressive values, unflinching in her convictions and ahead of her time in many ways. She has always been a one-of-a kind, barrier-breaking trailblazer and a lifelong advocate for women and working families. I'm proud to have introduced legislation to rename the Lynn C. Woolsey Post Office, and I'm even more pleased that President Biden signed my bill into law.  
Helping You
Whether it's help working with a federal agency, or providing information about legislation and policy, don't forget – my staff and I are here to help. Below is an example of some of the work my office has done to help our constituents.
"As a VA specialist in infectious diseases, it's critical that I'm able to work at multiple clinics due to changing COVID-19 demands. During the heart of the pandemic, I reached out to Congressman Huffman's office for help with my immigration application that was pending with USCIS for years. Despite many challenges, Rep. Huffman and his staff worked with USCIS on my behalf until my employment authorization was finally approved allowing me to provide much needed health care in multiple VA locations during the pandemic. They were very responsive, professional and engaged closely with USCIS in every step. I'm thankful that Congressman Huffman's office was there for me during this process."

– Raghesh Kangath, MD
If you're in need of assistance, you can submit a Casework Authorization Form on my website.  
 
Lastly, with the midterm elections quickly approaching, I want to make sure you have the chance to make your voices heard this November. You can visit the California Secretary of State's website to check your voter registration and review important voting information.  
To keep up with the work I am doing as your representative, please subscribe to my newsletter, and follow me on Facebook, Twitter, and Instagram. 
 
Thank you, and stay well, 
 
Jared Huffman 
Member of Congress 
---
---
Next Article
Previous Article