The State of Our Union is Strong: A Message from Rep. Huffman
February 17, 2023
Hello,
 
Last week, I attended President Joe Biden's State of the Union Address, and his message was clear: the state of our union is strong – and now it's time to finish the job. The Biden-Harris administration and Democrats in Congress have delivered big results over the last two years, including:  
12 million jobs created – more than any other President has created during their four–year term; 

Infrastructure investments in all 50 states, DC, and tribal nations; 

More people have health insurance than ever before; 

The largest climate investment in American history;  

Corporations finally paying their fair share in taxes; 

Rallying the world to support Ukraine in response to Putin's war; and 

Capping out-of-pocket drug costs for seniors and giving Medicare the power to negotiate lower prices. 
Under President Biden's leadership, we are strengthening communities in our country that have been left behind for far too long and building a better economy through landmark laws like the Inflation Reduction Act, CHIPS and Science Act, Bipartisan Infrastructure Law, and more. These results will truly improve the lives of the American people.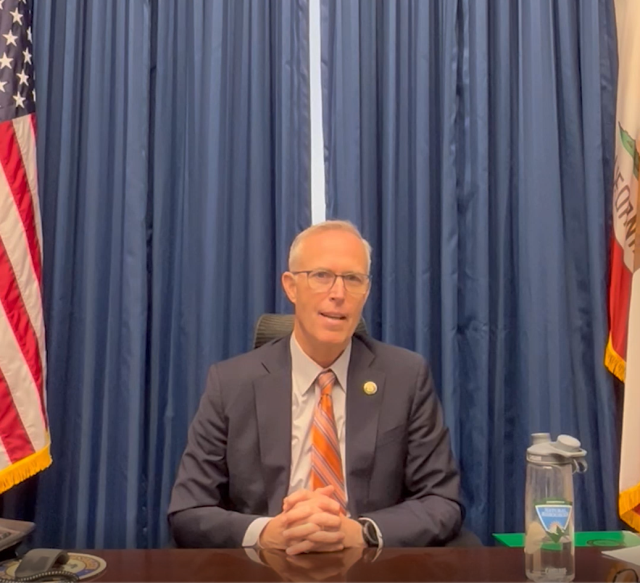 Click here to watch Rep. Huffman's remarks on the State of the Union. 
While I'm proud of the results we've delivered, there is still a lot of work to do. We must expand voting rights, codify the right to abortion, and advocate for health care as a human right. Although House Democrats are now in the minority, I am committed to standing up to Republican extremism, including guarding against any attempts to force a default on the debt limit or gut Social Security and Medicare. The state of our union is strong and getting better, but we certainly can't take our foot off the pedal. It's time to focus on implementing those transformative laws, building on our successes, and defending our democracy—because that is what makes all this progress possible.
Other Priorities I'm Working On: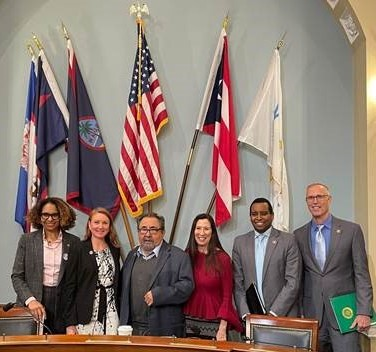 Rep. Huffman stands with fellow Natural Resources ranking members following elections.
Taking on Leadership Roles in the 118th Congress

: I was recently elected as the Ranking Member of the Water, Wildlife, and Fisheries Subcommittee on the Natural Resources Committee, where we will work on some of the most challenging conservation policy problems of our time. This adds to the growing list of leadership positions I'm honored to take on this Congress – including being appointed Chair of the Committee on Caucus Procedures, Steny Hoyer's Regional Leadership Council, the Congressional Progressive Caucus' Executive Board, the Democratic Steering and Policy Committee, as well as Democratic leadership's Senior Whip Team.   

Celebrating Black History Month

: In February, we celebrate Black History Month and the extraordinary contributions that Black Americans have made to our country, but Black history is part of the fabric of this nation every day of every month. The U.S. is a stronger and fairer country thanks to the courage, leadership, and advocacy of our Black communities. Unfortunately, progress here is too slow, and advancing justice is needed now more than ever. We must also recommit to creating a more just economy, dismantling systemic racism, achieving meaningful criminal justice reform, and delivering overdue investments in underserved communities.  

Working to Keep the Capitol Safe

: During a meeting to set up the rules for the Natural Resources Committee, my amendment to prohibit guns from the committee room was blocked by my Republican colleagues. Regrettably, we have members of the committee that fetishize guns, have incited violence, and bolstered insurrectionists. Making sure our staff and colleagues are safe in their place of work is critical, and I'm disappointed that Republicans voted down my amendment. This is just the latest in my work to keep the Capitol free from firearms – I have led multiple letters to leadership calling for a ban on Members carrying weapons, and just last week I sounded the alarm over reduced security measures under Republican leadership.  

Standing up to Dirty Oil

: I led a letter to Special Presidential Envoy for Climate John Kerry opposing the appointment of Sultan Al Jaber, a top executive of one of the world's largest oil and gas companies, as the leader of the U.N. Climate Conference (COP28). Appointing someone with deep ties to the fossil fuel industry to lead COP28 undermines the very essence of this conference, and seriously jeopardizes our ability to enact meaningful climate action.  

Protecting the Arctic Refuge

: I recently re-introduced my bill that would restore critical protections to the Arctic National Wildlife Refuge (ANWR). The Arctic Refuge Protection Act would permanently halt any new oil and gas leasing, exploration, and drilling on the Coastal Plain of the Arctic Refuge, as well as safeguard the subsistence rights of the Arctic Indigenous Peoples who depend on this pristine and unique ecosystem.  

Demanding Climate Leadership:

We are in a climate crisis, and it's imperative for world leaders across every sector to not only acknowledge that reality, but to take meaningful steps to protect our warming planet. That's why last fall, I called for the World Bank Leader David Malpass to step down or be removed from his position after he made several comments that suggest he denies climate change. And this week, he announced his resignation. Now we need to get someone in charge who will transition our financial system to one that supports clean energy and divests from Big Oil. 
Helping You  
Whether it's help working with a federal agency, or providing information about legislation and policy, don't forget – my staff and I are here to help. Below is an example of some of the work my office has done to help our constituents. 
"I called Rep. Huffman when I hadn't received my tax refund for 2021 and instead received a letter from the IRS saying I owe them money. Rep. Huffman's staff helped me to understand what I needed to do to prove my return was accurate so I could get my refund, and I finally got my refund! As a grocery store clerk living in a very rural area and supporting two children on my own, these dollars mean a lot. Now I can make car payments and pay my other bills. I am very grateful to Congressman Huffman and his staff for working with me."  
–Elizabeth, Round Valley 
If you're in need of assistance, you can submit a Casework Authorization Form on my website.   
   
To keep up with the work I am doing as your representative, please subscribe to my newsletter, and follow me on Facebook, Twitter, and Instagram.  
   
Thank you, and stay well,   
   
Jared Huffman   
Member of Congress   


---
---
Next Article
Previous Article