Disaster Relief is Here: A Message from Rep. Huffman
January 27, 2023
Hello,

California was hit with severe storms this month, and many folks in our district were affected by the ensuing floods, extreme high winds, power outages, and damage to roads, homes, and businesses. I'm grateful, yet again, to our first responders and all those who have stepped up to help our neighbors in need. I joined several congressional colleagues asking President Joe Biden to swiftly grant Governor Gavin Newsom's request for a federal disaster declaration to get funding and assistance to our state and local government partners – and thankfully the President did just that.
There is a lot of work ahead to repair the region and keep residents safe, and I'll keep pushing to ensure the federal government provides the assistance we need for the long haul. I am pleased to report that in response to an urgent letter I led in Congress to Transportation Secretary Pete Buttigieg and Federal Highway Administrator Shailen Bhatt, nearly $30 million in grants is headed our way to repair Federal highways and roads that were damaged by the storms.
The IRS has also extended the tax filing deadline for storm victims. If you live in Humboldt, Marin, Mendocino, or Sonoma Counties, you have until May 15, 2023 to file various tax returns and make tax payments. Additionally, in aftermath of the Humboldt earthquakes, I asked the Small Business Administration (SBA) to declare Humboldt County a disaster area, which frees up loans for residents and businesses to rebuild. Thankfully, the SBA acted on the request, and if you are in of need this assistance, you can learn more and apply here.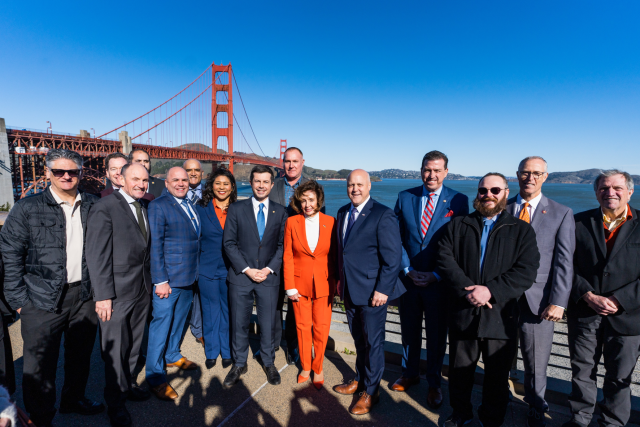 Rep. Huffman attends the Golden Gate Bridge celebration. 
Natural disasters are becoming more frequent, and it's important we make sure our communities and the structures we rely on are resilient. This week, I joined Secretary Pete Buttigieg and Speaker Emerita Nancy Pelosi to celebrate the $400 million grant for the Golden Gate Bridge from the landmark Bipartisan Infrastructure Law. This federal investment will be used to retrofit this iconic bridge, increase its resilience against earthquakes, and improve public safety. Under President Biden and Democrats' leadership, we are delivering real results for the country, ensuring that the Golden Gate Bridge continues to safely and reliably serve our community for decades to come. 
Other Priorities I'm Working On: 

Funding Wins for the North Coast

: For the second year in a row, I was able to secure funding for special projects right here in California's 2nd district. I'm happy to report that $12.4 million for 14 of our Community Project funding requests made it into the 2023 funding bill and were passed into law – bringing our total Community Project funding up to $23.9 million for 23 projects! From addressing veteran homelessness, improving rural health center facilities, and investing in an EV charger expansion project, these funds advance projects throughout the North Coast that will make a huge difference in many folks' lives. You can find a complete list of the projects receiving funding from 2023 omnibus

here.  

Engaging with Students:

 I make a point of offering student town halls throughout the district to hear from students directly. This month, I enjoyed a thoughtful discussion with Mill Valley Middle School students. We talked about how young people can make a difference in government, as well as their thoughts on a number of issues affecting Tribes. I always appreciate opportunities to meet with our young students, and I'm inspired by this future generation of leaders.  

Standing Up to House Republicans' Extreme Agenda:

 

The House of Representatives now has a very narrow new Republican majority, and we are already witnessing a lot of chaos, confusion, and dysfunction as they struggle to govern. And just weeks into the new Congress, we've begun to see their extreme policy agenda, including a new attack on reproductive rights and promises to make deep non-defense budget cuts. We know where this is heading: attempts to criminalize abortion nationwide with no exceptions, and efforts to defund lifeline programs like Social Security and Medicare. I'm grateful that our Democratic caucus has been well organized, disciplined, and united. No matter what extreme proposals and political stunts we see from House Republicans, Democrats will stay focused on delivering for the people.   
Helping You  
Whether it's help working with a federal agency, or providing information about legislation and policy, don't forget – my staff and I are here to help. Below is an example of some of the work my office has done to help our constituents. 
"My wife and I were in the final stages of our green card application process but we were not seeing any progress for over 18 months. We reached out to Congressman Huffman's office for help. They had helped us previously with our employment authorization documents. The Congressman and his staff regularly checked in with USCIS about the status of our applications and kept us fully informed. We finally received our green cards in Fall 2022. We want to thank Congressman Huffman and his staff for making this happen."  
- Deepti and Pavan, San Rafael 
If you're in need of assistance, you can submit a Casework Authorization Form on my website.   
   
To keep up with the work I am doing as your representative, please subscribe to my newsletter, and follow me on?Facebook,?Twitter, and?Instagram.  
   
Thank you, and stay well, 

Jared Huffman
Member of Congress
---
---
Next Article
Previous Article