Fighting for Climate Action, Updating our National Fisheries Law, & More: A Message from Rep. Huffman
September 30, 2022
Hello,
 
Ever since I first set foot in the halls of Congress as your Representative, I've been committed to advancing science-based climate action. And over the past two years, we've signed into law the most historic climate legislation ever seen, despite razor thin majorities and aggressive opposition from leaders in the pocket of Big Oil. We recently passed the historic Inflation Reduction Act (IRA), which provides the largest investment in American history to combat the climate crisis, provides support for drought and wildfire resiliency, and creates millions of jobs in renewable energy. We also passed the landmark Bipartisan Infrastructure Law to repair and modernize outdated infrastructure across the nation, including investments for public transit, clean energy transmission, a clean and resilient electric grid, and electric vehicle infrastructure.  
 
We are in a climate crisis that demands action now. And we don't need to accept bad deals in the name of progress. That's why, alongside many of my progressive colleagues, I fought to keep Senator Manchin's backroom permitting reform deal to expedite fossil fuel projects out of the government funding bill. The climate crisis is fueled largely by the burning of dirty fossil fuels, and after the last year of significant climate progress, no one should support any deals that advance new oil and gas developments. Progressives and activists stood up against this Faustian deal, and I'm happy to say we succeeded and have passed a clean government funding bill with no hand-outs to the fossil fuel industry. I'm proud to be one of the leading climate advocates in Congress, and I'll continue to push for climate-smart policies.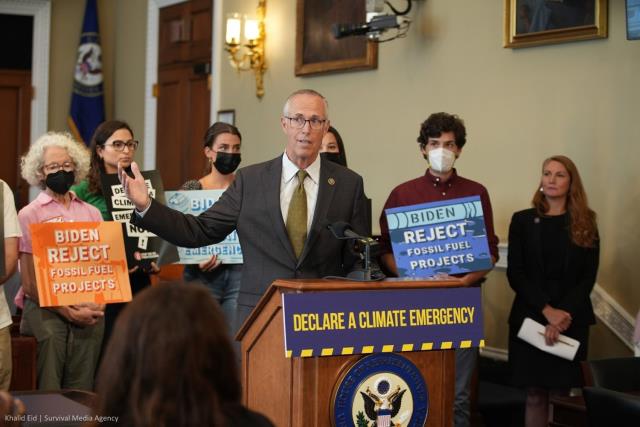 Rep. Huffman speaks at a press conference on climate action. 
As Chair of the Water, Oceans, and Wildlife Subcommittee, one of my main priorities has been updating the Magnuson Stevens Act (MSA), the primary law governing our fisheries in federal waters. For decades, the U.S. has been a world leader in sustainable fisheries, and it's critical we continue to set an example of responsible, science-driven policies for managing our ocean resources. People coast-to-coast depend on healthy oceans and fisheries, from the seafood we eat to the endless recreational opportunities our federal waters provide.  
 
In 2019, I began my nationwide listening tour to meet with folks across the country to collect input on updates and improvements they wanted to see in the MSA. After a two-year long process of listening to feedback from experts and stakeholders, the Natural Resources Committee has voted on my bill, the Sustaining America's Fisheries for the Future Act, which not only reauthorizes the MSA, but also for the first time includes critical updates to address the impacts of climate change, new technologies, and changing ocean use. There are many challenges facing the fishing industry, but I'm confident that my bill will meet the moment to protect the ocean's valuable resources and enhance sustainable fisheries management.  
What Else I've Been Working On 
Supporting Small Cannabis Farmers:

I recently introduced the Small and Homestead Independent Producers (SHIP) Act to help small, family farmers compete with large, commercial cannabis operations. My bill would permit small cannabis producers to ship and sell their products directly to consumers, allowing them to operate their businesses within and across state lines. Once the archaic, federal ban on cannabis is finally lifted, my bill will ensure small businesses have a chance to compete and succeed in this profitable market.

Engaging with Students:

I always appreciate the opportunity to visit with the next generation of leaders. I joined students at Mark West Elementary School for a thoughtful discussion about my work in Congress, climate change, and river restoration. I especially enjoyed learning about their impressive "Green Team" initiative to reduce school waste. I also recently visited Redwood High School, where I answered students' questions about partisanship, the role of money in politics, and income inequality.

Promoting Clean Energy

: During a recent visit to Eureka, I stopped by the Humboldt Transit Authority's (HTA) office to learn about the agency's work to advance zero emission transportation. The HTA's plans for new hydrogen-powered buses are critical for increasing transit access and reducing our reliance on dirty fossil fuels. I love to see this innovation and forward thinking from our district!

Celebrating the New VA Clinic:

I had the pleasure of joining the ribbon cutting ceremony for the new VA clinic in Santa Rosa. The new clinic is a state-of-the-art facility that will increase specialty care services and improve care for veterans. It's critical that we expand health care access for our veterans, caregivers, and families from rural communities.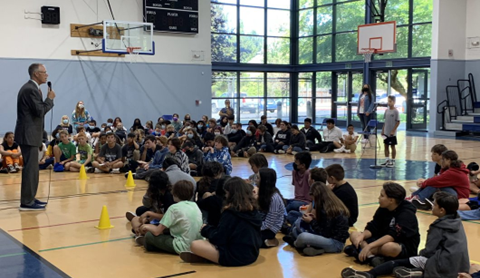 Rep. Huffman speaks to students at Mark West Elementary School. 
Helping You  
Whether it's help working with a federal agency, or providing information about legislation and policy, don't forget – my staff and I are here to help. Below is an example of some of the work my office has done to help our constituents.  
 "Mendocino Community College was facing a large penalty from the IRS that would have diverted important funding from educational programs. Rep. Huffman and staff acted quickly to support our request for reconsideration, and the situation was resolved without a fine. We appreciate Congressman Huffman's swift assistance and support for Mendocino Community College." 
- Timothy Karas, Ed.D, Superintendent/President Mendocino-Lake Community College District 
If you're in need of assistance, you can submit a Casework Authorization Form on my website.  
To keep up with the work I am doing as your representative, please subscribe to my newsletter, and follow me on Facebook, Twitter, and Instagram. 
 
Thank you, and stay well, 
 
Jared Huffman 


---
---
Next Article
Previous Article