Helping Californians with Wildfires: A Message from Rep. Huffman
August 31, 2022
Hello,

In recent years, our district has experienced some of the nation's worst wildfires – fueled by climate change and extreme drought. We know all too well the devastating impacts these fires have on our region and how important it is to access support and do what we can to prevent and mitigate the damage. The recent Six Rivers Lightning Complex Fire was a frightening example of how quickly fires can break out, and I'm grateful for the many partners my team was able to work with to make this fire a priority for resources in the nation. My staff and I will continue to monitor it and any other fires closely.
It's one of my top priorities in Congress to bring back resources to the North Coast to help folks prepare for and recover from wildfires. I'd like to share some of the work I've been doing to help keep you and your families safe from the growing threat of fires in our district. 
 
Wildfire Resource Guide 
First, you can be prepared for a wildfire in your area by taking a look at my Wildfire Resource Guide. You'll find information about evacuations, public shelters, and details about federal resources that may be available—like Federal Emergency Management Agency (FEMA) assistance and Small Business Administration loans.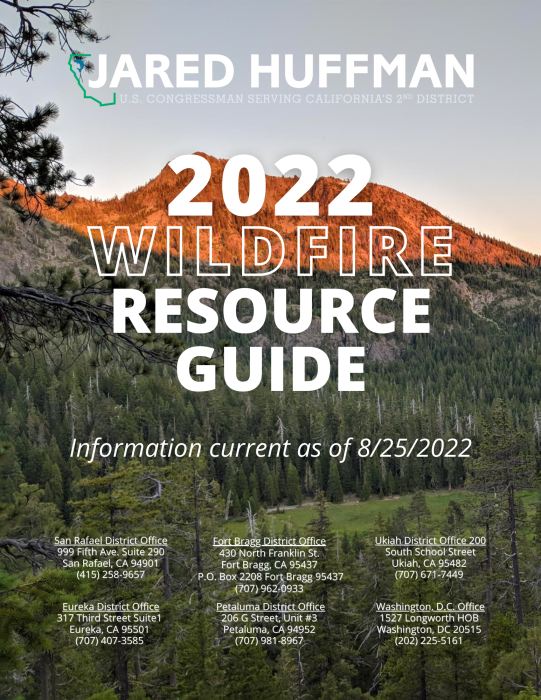 Click HERE to download a copy of this year's Wildfire Resource Guide.
Wildfire Defense Funding in the Bipartisan Infrastructure Law 
Last year, I voted for President Biden's landmark Bipartisan Infrastructure Law, a once-in-a-generation investment in our country's crumbling and outdated infrastructure. With funding allocated in this law, the Biden administration created a $1 billion Community Wildfire Defense Grant program. This new program will be a valuable tool for helping at-risk communities, tribes, and state forestry agencies prepare for and alleviate wildfire hazards.
Combatting Climate Change with the Inflation Reduction Act 
Mitigating the impacts of the climate crisis is our best long-term defense against wildfires. This month, President Joe Biden signed the historic Inflation Reduction Act into law, which includes the biggest investments in climate action in American history. This new law will reduce planet-warming carbon pollution by 40% within this decade, accelerate our transition to clean energy, and invest in drought resilience.    
 
Advocating for FEMA Assistance 
As your Representative, I have an important role to play in advocating for federal support. During disasters, I have repeatedly called for the administration to extend resources by issuing Major Disaster Declarations like I did during the August 2021 wildfires. I also advocate for grants from FEMA to support victims and survivors of wildfires – and was pleased to recently announce that Santa Rosa was awarded a $2.6 million grant for fire support measures related to the 2019 Kincade fire.  
Additional Legislative Activity 
My staff and I are here to help in any way we can. Please don't hesitate to call one of my district offices if you need assistance. If we aren't the right place to get you what you need, my staff can also guide you to the state and local resources available. 
 
Thank you, and stay safe,  
 
Jared Huffman 
Member of Congress
---
---
Next Article
Previous Article