Rep. Huffman Recognizes Foggy Bottom Boys with Sustainable North Coast Award
August 04, 2023
San Rafael, CA – This week, U.S. Representative Jared Huffman (CA-02) presented his Sustainable North Coast Award to Foggy Bottoms Boys partners Thomas and Cody Nicholson Stratton in recognition of their commitment to environmentally responsible business practices, support for the local food industry, and community service.
"I was thrilled to present Cody and Thomas Nicholson Stratton with my Sustainable North Coast award. We must treat the planet and our environment with respect so that our natural resources can last for future generations – and Cody and Thomas' sustainable farming practices at Foggy Bottoms Boys are the perfect model for that. I'm glad to have these sustainable champions in my district and am grateful for their commitment to community-minded and environmentally responsible farming in Ferndale," said Rep. Huffman.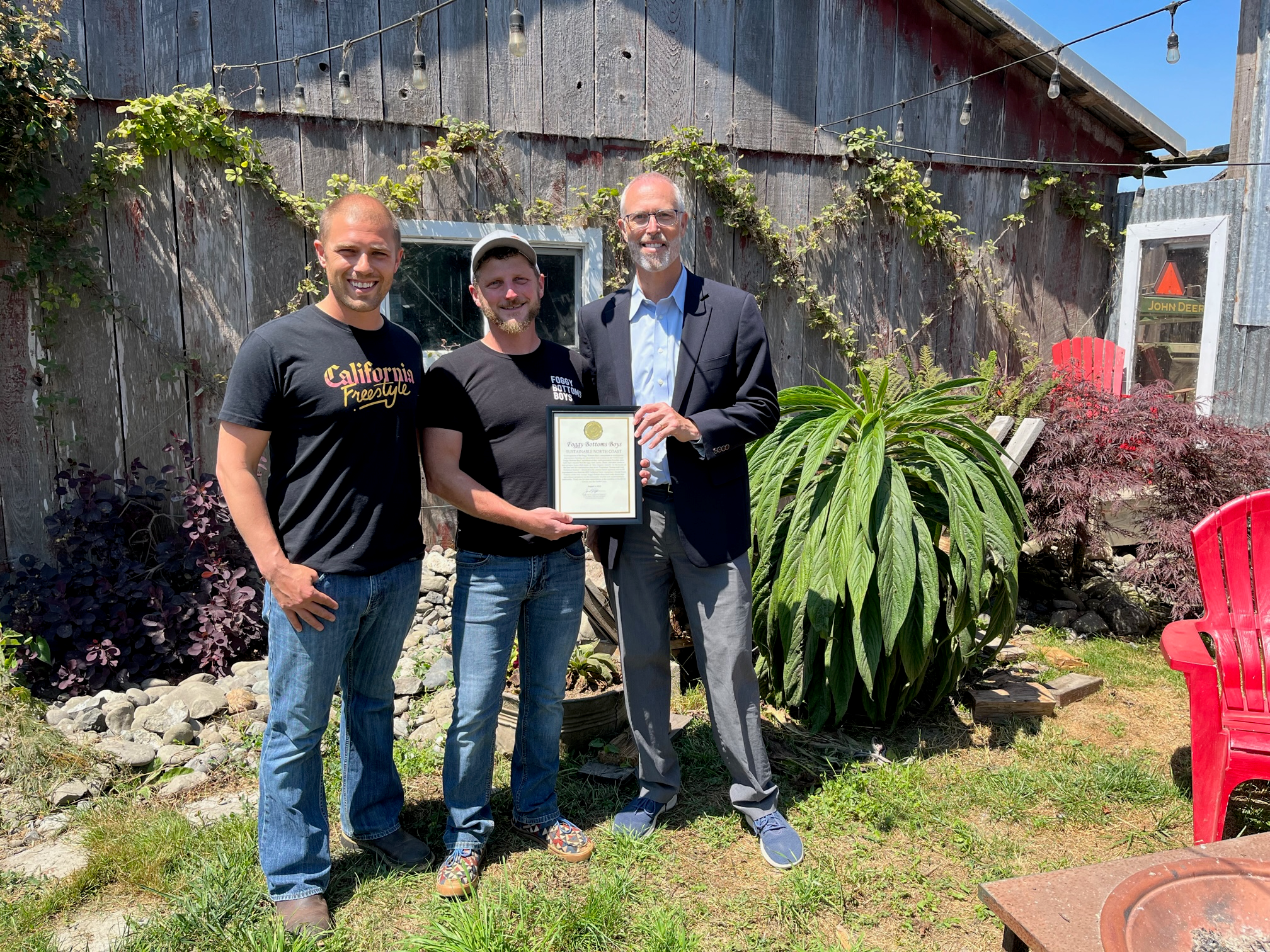 Rep. Huffman presents certificate to Cody and Thomas Nicholson Stratton.
For six generations, this family farm has operated in the foggy bottoms of the Eel River Valley on the far northern coast of California. Today, Foggy Bottoms Boys is led by Thomas and Cody Nicholson Stratton, with help from their father, grandfather and even their little son. This duo is bringing new regenerative practices to their farm, while improving upon time-tested traditions. Their highly-diversified farm produces organic dairy, beef, lamb, poultry, eggs, and even yarn made from their sheep, goats and angora rabbits. From cover crops to maintaining wild habitat for biodiversity to ensuring a pasture-based approach, they pay close attention to the health of their land and animals. Today they're experimenting with new methods, such as no-till, to increase their soil organic matter even further. With a strong focus on their local community, the Foggy Bottoms Boys are working hard to ensure a healthy future for even more generations to come.
---
---
Next Article
Previous Article