Rep. Huffman Announces $41.4 Million to Help Put Better, Cleaner Buses on the Roads in Marin and Santa Rosa
Grants Come from President Joe Biden's Landmark Infrastructure Law
June 26, 2023
San Rafael, CA – Today, Representative Jared Huffman (D-San Rafael) announced Santa Rosa and Marin County Transit District have received over $41.4 million in funding from the Biden-Harris administration's infrastructure law to put new American-built buses on the road and improve transit service in their community. The grants, administered by the U.S. Department of Transportation's Federal Transit Administration, were made possible by the Infrastructure Investment and Jobs Act, which Rep. Huffman helped get passed in Congress.
"We made a promise to invest in America and rebuild our infrastructure to work better for everyday folks. Public transportation is a fundamental part of that equation, and these grants are going to help create a greener, more modern way to get people where they need to go," said Rep. Huffman. "Another huge benefit of electrifying our region's bus fleets is that every one of these clean electric busses is potentially a mobile generator to help communities respond to disasters and power outages. Clean energy is the future, and by investing in these buses we can supercharge our transition while improving lives, creating jobs, and reducing planet-killing emissions."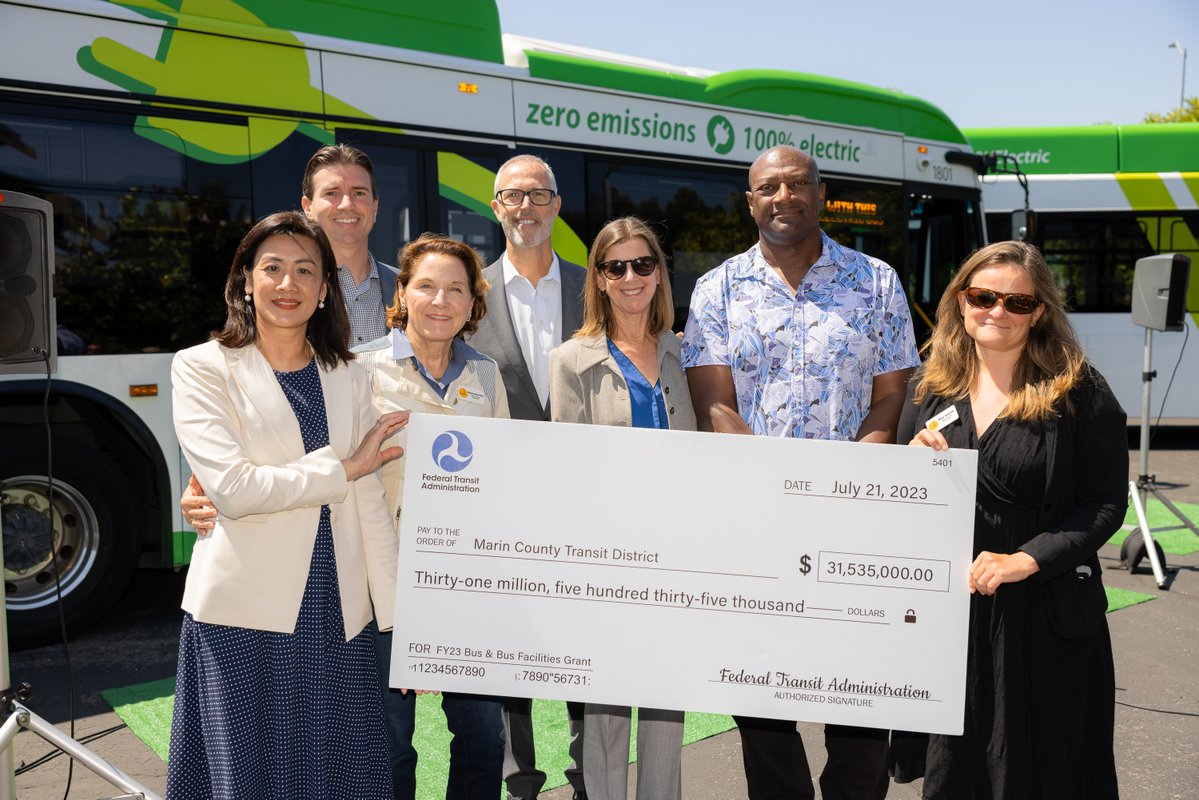 Marin County Transit District will receive $31,535,000 for its Fixed Route Electric Vehicle Charging and Maintenance Facility project. Santa Rosa will receive $9,899,120 for its Phase 3 of Diesel Bus Fleet Conversion to Battery Electric Buses with Supporting Charging Infrastructure project.
"This generous funding will facilitate the construction of a bus maintenance facility and electric charging infrastructure for up to 40 buses, leading to improved efficiency, enhanced services, and a better experience for our community," said Nancy Whelan, Marin Transit General Manager.
"As we embark on this transformative project, we look forward to collaborating with our community stakeholders, elected officials, and transit partners to ensure that it is successfully implemented," remarked Marin Transit Board President Katie Rice. "Together, we will create a transportation system that meets our sustainability goals while supporting growth in the County."
"These federal funds will help bring Santa Rosa one step closer to achieving an all-electric bus fleet, as Santa Rosa is dedicated to reducing greenhouse gas emissions," said Santa Rosa City Manager Maraskeshia Smith. "We appreciate the support of Congressman Thompson, Congressman Huffman, and our entire legislative delegation in securing these competitive funds."
"Every day, over 60,000 buses in communities of all sizes take millions of Americans to work, school, and everywhere else they need to go," said U.S. Transportation Secretary Pete Buttigieg. "Today's announcement means more clean buses, less pollution, more jobs in manufacturing and maintenance, and better commutes for families across the country." 
"Investing in our infrastructure is investing in our future, and the Bipartisan Infrastructure Law is delivering for communities throughout our district," said Rep. Mike Thompson (D-St. Helena), whose district also includes part of Santa Rosa. "This grant serves dual purposes, modernizing our bus fleet while reducing emissions, helping our efforts to combat climate change. Proud to have voted for the Bipartisan Infrastructure Law, and I look forward to a continued partnership with the City of Santa Rosa to secure additional funds from this historic law."
The grants were competitive. There were five times as many requests for funding than was available. In total, the U.S. Department of Transportation announced nearly $1.7 billion for transit projects in 46 states, territories, and D.C. during the round of funding. The funding also includes support for workforce training, registered apprenticeships, and project labor agreements, ensuring good-paying jobs into the future.
The projects announced today are supported by FTA's Grants for Buses and Bus Facilities and Low- and No-Emission (Low-No) Vehicle programs. They make funding available to help transit agencies buy or lease American-built low- or zero-emission vehicles, including buses and vans; make facility and station upgrades to accommodate low- or zero-emission vehicles; and purchase supporting equipment like chargers for battery electric vehicles. The Bipartisan Infrastructure Law provides $5.5 billion through Fiscal Year 2026 for the Low-No Program – more than six times greater than the previous five years of funding combined.  
---
---
Next Article
Previous Article