What's Happening in Congress? Oceans, Drought, Labor, and More: A Message from Rep. Huffman
June 02, 2021
Hello,  
 
After a year of grim milestones, I'm happy to start off this message with some uplifting news: over 50% of adults in the U.S. are now fully vaccinated, according to White House senior Covid-19 adviser Andy Slavitt. I commend the Biden administration for its bold leadership, clear vision, and steadfast commitment to defeating the pandemic. This important milestone is a light at the end of the tunnel, but we still have a ways to go. If you still haven't been vaccinated against COVID-19, I urge you to get the FDA-approved COVID-19 vaccine that is available to you. They are safe, effective, and our best shot at beating this pandemic once and for all. Congress has been hard at work this month, from busy committee hearings to passing the COVID-19 Hate Crimes Act to address the surge in violence against Asian Americans. Below are some additional highlights from the past month I'd like to share with you.
 
Advocating for our Oceans 
Fighting climate change must include policies that center on protecting our oceans. This month, I introduced the Illegal Fishing and Forced Labor Prevention Act, a bipartisan bill that combats illegal, unregulated, and unreported (IUU) fishing and human rights abuses in the seafood supply chain. IUU fishing is an environmental crisis, severely damaging ocean ecosystems and fisheries. It is also a humanitarian emergency -- illegal fishing operations often rely on atrocious practices like human trafficking and forced labor. My new bill helps ensure an ethical seafood supply chain, and prevents IUU products from entering the U.S. seafood market. 

Rep. Huffman gives remarks at Natural Resources Committee hearing.
Additionally, I was pleased to discuss my bill, the North Pacific Ocean Protection Act, during a Natural Resources Energy & Mineral Resources Subcommittee hearing on offshore drilling. My bill would permanently ban new oil and gas leases off the coasts of Northern and Central California, Oregon, and Washington. The environmental cost of offshore drilling is undeniable, and our ocean-dependent economies and marine ecosystems are too important to put at risk for the profits of the fossil fuel industry. I have been working to protect the North Coast from new drilling since I came to Congress, and I remain committed to advocating for our beautiful oceans and coasts.
Combatting California's Drought 
Over the last two months, Governor Gavin Newsom has declared a drought emergency for many California counties, starting with Sonoma and Mendocino in April, and expanding to include Trinity, Del Norte, and Humboldt Counties in May. In response, I convened an Emergency Water Summit with experts, elected officials, and stakeholders to discuss the most critical needs related to the drought conditions in the Russian River Basin. Additionally, I co-hosted a Drought Roundtable with Congressman Mike Thompson to talk with constituents from the agricultural and wine communities about their unique needs and how the drought is impacting their industries. Unfortunately, it is going to be another difficult year for California water as we deal with climate change and its compounding effects that worsen drought conditions. I will continue to work diligently with our community leaders to ensure we can effectively meet this challenge.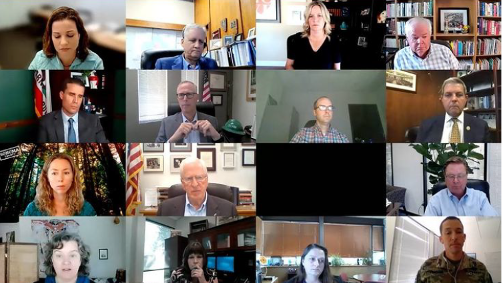 Rep. Huffman joins local leaders at emergency drought summit. 
I also re-introduced my FUTURE Western Water Infrastructure and Drought Resiliency Act (FUTURE Act), an ambitious and comprehensive water infrastructure proposal to improve drought preparedness and water supply reliability. With another year of devastating droughts on the horizon, it's clear we need to build resilient systems that work for everyone. My bill develops resilient water infrastructure, expands the use of water tools and tech, and assists underserved areas in meeting drinking water needs. During the Water, Oceans, and Wildlife subcommittee hearing on the status of drought conditions throughout the West, I was pleased to discuss my bill, as well the need for federal investment in water infrastructure and drought-proof water supply projects. It's critical that we provide short and long-term drought relief to build resilient communities including through direct aid from federal, state, and local sources.
 
Working with Local Labor Leaders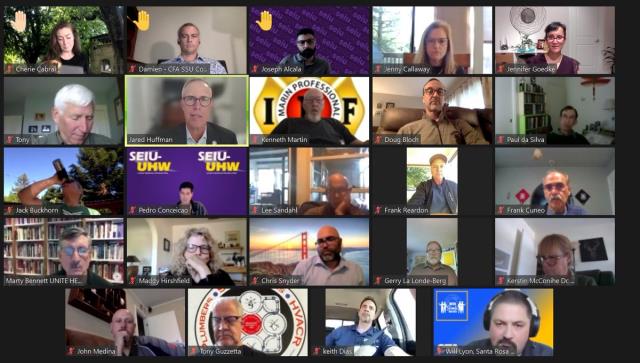 Rep. Huffman at his labor leaders town hall. 
At the end of May, I convened a town hall with labor leaders from across our district to address pressing labor needs. We discussed the legislative action that we can take at the federal level, including the Protecting the Right to Organize (PRO) Act. A strong middle class is essential for a strong economy, and I support workers' rights to organize a union -- not just to rebuild the economy after the pandemic, but also to improve the lives of workers and their families.
Serving You 
As always, my staff is hard at work serving you. Whether it's assistance working with a federal agency or providing information about legislation and policy – we're here to help.  
There is no problem too big or small. Your needs matter, and I'd like to share one of our recent success stories:  
"I met and married my spouse in Mexico almost four years ago and began the immigration process shortly thereafter. I reached out to Congressman Huffman's office to request assistance with our case. Congressman Huffman's staff immediately did a deep dive and began reaching out to the embassy which was closed due to COVID. We received our final interview date three days later and my spouse entered the U.S. later that day! We are forever grateful to Congressman Huffman's office and phenomenal staff. Thank you from the bottom of our hearts!!!" 
– David, Windsor CA 
This is just one example of how my office can help you. As I continue my important work for the people of California's Second District, please don't hesitate to contact my office for assistance if you are in need. 
If you would like to keep up with the work I am doing as your representative, please subscribe to my newsletter, and follow me on Facebook, Twitter, and Instagram. As I continue my important work for the people of California's Second District, please don't hesitate to contact my office for assistance if you are in need. 
 
I also invite you to subscribe to my podcast, "Off the Cuff with Rep. Huffman," so that you can engage with our in-depth conversations about what's happening in California and in Washington, D.C. 
Thank you, and stay well, 

Jared Huffman
Member of Congress 
---
---
Next Article
Previous Article