What's Happening in Congress? Infrastructure, Climate Action, Student Competitions, and More: A Message from Rep. Huffman
July 02, 2021
Hello, 
  
As I look back on the month of June, I am pleased with the work we have accomplished in Congress. I am especially proud to have voted to make Juneteenth a national holiday – recognition that's long overdue. But the work for equity and racial justice is nowhere near done, and we must back this up with real policy changes to secure voting rights, end systemic racism, ensure Black history isn't hidden, and realize this country's promise of equality for all.  We also celebrated LGBTQ+ Americans during Pride month, and the House passed legislation that would grow access to credit for LGBTQ-owned businesses. This is just the beginning of a busy summer for House Democrats, and I will continue to advocate for policies and work to pass legislation that serves my constituents. Below are some additional highlights from the past month I'd like to share with you.  
  
Building Back Better Infrastructure   
This month, the House passed the INVEST in America Act, a transformational surface transportation reauthorization bill that includes critical investments in infrastructure. In addition to creating safer, more connected communities, modern infrastructure drives our economy, creates good jobs, and can be a pivotal part of the solution to climate change. This legislation also includes over $24.4 million for vital transportation projects in our district. These investments are essential, and I look forward to working with my colleagues and the Biden administration to move these projects across the finish line.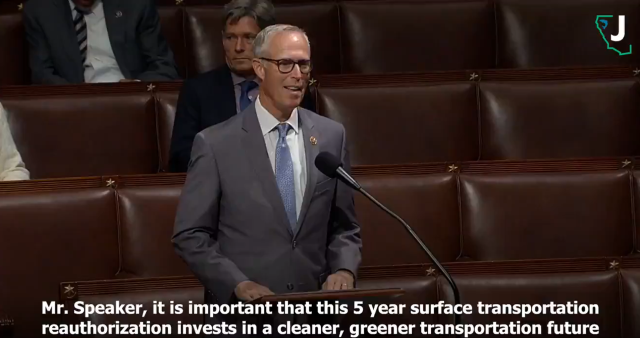 Advocating for the Environment
As your member of Congress, I've continued to advocate for the environment and the health of our planet. This month, I introduced my Blue Carbon Protection Act to help protect and restore blue carbon ecosystems across the country. During the Natural Resources hearing on the Ocean-Based Climate Solutions Act, I explained how blue carbon ecosystems are incredibly effective at storing carbon emissions, which are driving the climate crisis. Unfortunately, these valuable resources are being destroyed by coastal development, climate change, and pollution. With my bill, we can ensure these essential, natural resources for solving the climate crisis are restored and protected.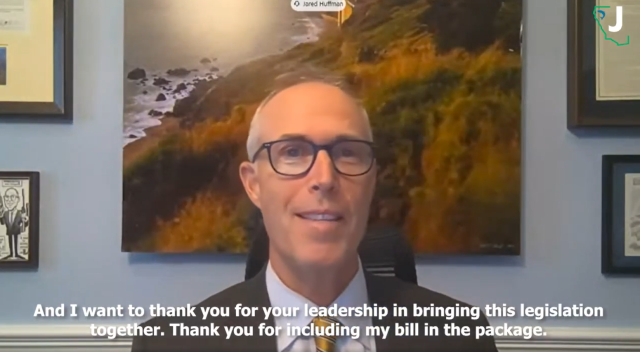 Additionally, the Committee on Natural Resources reviewed the Department of the Interior's proposed  budget for 2022 and discussed the Biden administration's plans on key issues impacting my district. I had the honor of speaking with my former colleague, Secretary of he Interior Deb Haaland, about the severe drought in California as well as oil and gas leasing. I am pleased that this administration is deeply committed to working with Congress to develop real solutions to address these serious issues and prevent the worst impacts from climate change.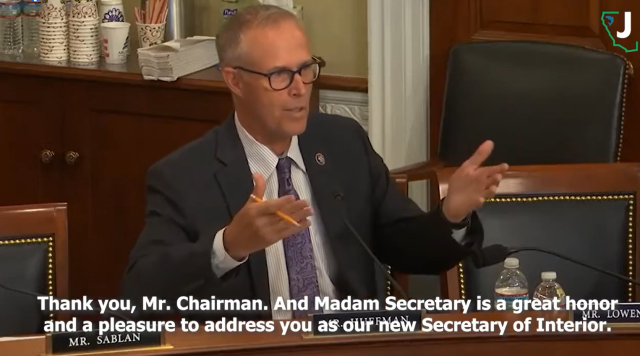 Lastly, House Democrats reversed a number of the Trump administration's rules to reverse climate action, one of which weakened regulations on methane emissions from oil and gas facilities. Cutting methane emissions is critical for combatting the climate crisis. Under House Democrats' leadership, we are going to restore the methane rules set by President Obama, which will protect the health of our communities and our planet.  This resolution is now headed to President Biden's desk to be signed into law.    
Local Student Activities  
I recently announced the start of the 2021 Congressional App Challenge for middle and high school students. This competition invites students to compete by creating apps for mobile, tablet, or computer devices on any platform of their choice.  Last year, I was very impressed by the submissions we received, and I'm already looking forward to the innovative creations we'll receive this year. Students can register for the competition as well as find more information on my website.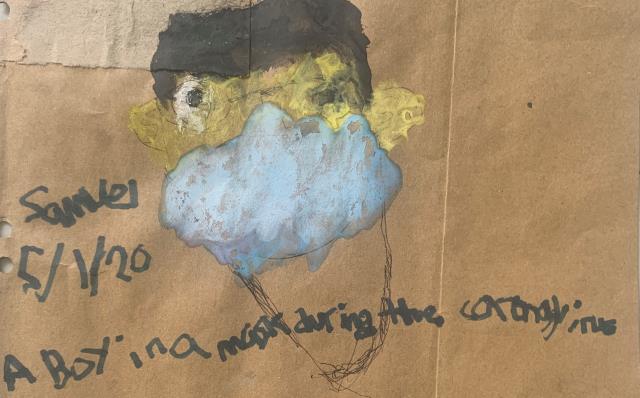 "Boy in a Blue Mask" by Samuel Lopez
Also, this month I was pleased to announce Samuel Lopez of Fairfax as the winner of this year's Congressional Art Competition. Samuel has muscular dystrophy and is in a wheelchair. His dedication to continue his hobby, despite the significant challenges he faces even holding a pencil, is a remarkable example of what it means to be resilient and overcome even the most daunting obstacles. Students from across the Second District all demonstrated a similar fortitude and exceptional artistic talent, all while being separated from the classroom and their peers over the past year. I applaud all of our participants for their endurance and creativity. Samuel's submission, "Boy in a Blue Mask," will hang in the U.S. Capitol for one year along with artwork from each congressional district in the country. High resolution photos of all the finalists can be found here.  
Serving You   
As always, my staff is hard at work serving you. Whether it's assistance working with a federal agency or providing information about legislation and policy – we're here to help.   
  
There is no problem too big or small. Your needs matter, and I'd like to share one of our recent success stories:
"I just want to thank you and your excellent staff for helping me obtain my tax refund from the IRS. I, along with my accountant, had tried for several months to obtain a refund from my 2019 Federal Tax return. We tried calling the tax advocate office and writing to the IRS with no success. I called your office and spoke with Ciara and she got on the case the next day. She kept me informed of the progress every few days and I just heard yesterday that the IRS is mailing me a check for the refund, with interest, in the next week." 
-- Harold Z, Marin County   
This is just one example of how my office can help you. As I continue my important work for the people of California's Second District, please don't hesitate to contact my office for assistance if you are in need.    
If you would like to keep up with the work I am doing as your representative, please subscribe to my newsletter, and follow me on Facebook, Twitter, and Instagram.   
  
I also invite you to subscribe to my podcast, "Off the Cuff with Rep. Huffman," so that you can engage with our in-depth conversations about what's happening in California and in Washington, D.C. Tune in here for my latest episode with Congressman Emanuel Cleaver, where we discuss the role of spirituality in public life.  
  
Thank you, and stay well,  
  
Jared Huffman  
Member of Congress 
---
---
Next Article
Previous Article