Standing Up Against Extreme SCOTUS Decisions: A Message from Rep. Huffman
July 01, 2022
Hello,
 
This has been a difficult month for us all in the face of an avalanche of extreme, precedent-breaking decisions by the Supreme Court. The extremist, out of touch judges have stripped people in America of their fundamental rights, demolished the wall separating church and state, and handcuffed government agencies from being able to uphold public safety laws and protect the environment. 
As I'm sure you're aware, the Supreme Court overturned the constitutional right to abortion, tearing apart decades of legal precedent. I believe this abhorrent decision takes our country down a terrifying path of stripping away additional fundamental freedoms.  
The case of Kennedy v. Bremerton School District was about a public school official pressuring students into active religious practice, and SCOTUS' ruling is devastating for the separation of church and state. In America, Freedom of Religion includes the freedom to not participate in a religious community, and our children should have the ability to practice any religion – or none at all – without fear of retaliation or pressure. 
As scientists around the world are sounding the alarm on the rapidly accelerating pace of climate change, it is confounding to see this court kneecap the Environmental Protection Agency's ability to regulate planet-warming emissions with their ruling on the West Virginia v. the EPA case. Despite these consequences, there are still paths forward to reducing emissions and saving our planet – and I will not stop fighting until we meet our climate goals. 
At a time when gun violence is devastating communities across the country, the Supreme Court also decided to overturn a century-old New York State law that limits guns in public. To me, this decision is riddled with hypocrisy. The Supreme Court is stripping states of their power to protect communities by regulating guns in public, while granting states the authority to regulate women's bodies.  
I think the decisions in all these cases are outrageous and dangerous, out of step with public opinion, and severely damage the court's legitimacy. We cannot accept a world where our future generations have fewer rights than those who came before them. I'll keep fighting in Congress to codify our fundamental rights into federal law. 
What Else I've Been Working On: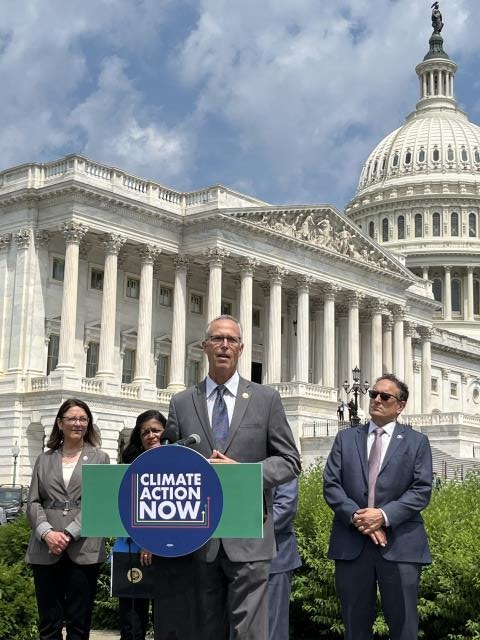 Rep. Huffman stands with House Democratic colleagues to call for bold climate action. 
Helping You 
 
Whether it's help working with a federal agency, or providing information about legislation and policy, don't forget – my staff and I are here to help. Below is an example of some of the work my office has done to help our constituents. 
"Thank you to the Congressman and his staff for working with the Social Security Administration to reinstate our benefits after they had been wrongly suspended. After submitting an appeal and not hearing anything for eight months, we reached out to Congressman Huffman's Office. With their help, we were able to resolve our appeal and resume our monthly payments. They also ensured that we received several thousands of dollars of much needed backpay, to make up for the year that we should have been receiving benefits. The staff's effort and diligence throughout the whole process was essential to making things right again."     
– Tim Giddings from Petaluma 
If you're in need of assistance, you can submit a Casework Authorization Form on my website.  
If you would like to keep up with the work I am doing as your representative, please subscribe to my newsletter, and follow me on Facebook, Twitter, and Instagram. 
Thank you, and stay well, 

Jared Huffman
MEMBER OF CONGRESS
---
---
Next Article
Previous Article