Gun Violence Prevention, Defending Democracy, and More: A Message from Rep. Huffman
June 17, 2022
Hello,

We have a gun violence epidemic in our country, a crisis that is uniquely American. People from all parties, from all walks of life are desperately calling on Congress to make reforms that are commonsense and urgently needed. Over 100 people die from firearms every single day, and guns have become the number one cause of death for children. It doesn't have to be this way. I refuse to accept these atrocities as an unavoidable part of American life. 
The House just passed several historic gun violence prevention bills that will save lives and make our communities safer. Last week, we approved the Protecting Our Kids Act, a package of commonsense bills that I co-sponsored. This legislation would:  
Raise the purchasing age for semi-automatic weapons from 18 to 21 years old,  

Crack down on gun trafficking and straw purchases to get illegal guns off our streets,  

Subject ghost gun purchases to background check requirements, 

Strengthen safe storage requirements to protect children, 

Close the bump stock loophole to ban these deadly tools from civilian use, and 

Outlaw high-capacity magazines, which have been the accessory of choice in the deadliest mass shootings. 
Additionally, House Democrats also passed the Federal Extreme Risk Protection Order Act, which would temporarily remove access to firearms for those deemed a danger to themselves or others by a federal court.  
I'm glad to hear that the Senate has also come to an agreement on a bipartisan package of gun violence prevention bills. This package takes steps to save lives, but we will keep working to pass a more robust legislative package. 
I am also Working to: 
Defend Democracy after January 6th:

This month, I'm closely watching the public hearings of the Select Committee to Investigate the January 6th Attack on the U.S. Capitol. After months of investigating and conducting more than a thousand interviews, the committee has provided indisputable evidence that the January 6th attack was part of a coordinated, multi-step effort to overturn the 2020 election. The Committee's findings are critical to ensure that nothing like January 6th ever happens again. Our democracy depends on it. 

Address Illegal Fishing:

I recently led a letter to President Biden requesting that his administration announce new regulations for illegal, unreported, and unregulated (IUU) fishing. IUU fishing is a serious threat to human rights, the health of oceans, and the competitiveness of American fisheries. It's time for us to act and show that the U.S. is a leader in combating these issues on the international stage. 

Defeat the Toxic Coal Train

: I'm excited to report that we are one step closer to making the Great Redwood Trail a reality. Just last week, the Surface Transportation Board rejected the North Coast Railroad Company's application to revive an abandoned rail line through the Eel River canyon to export coal. When this first came to light last year, I promised my constituents that within my abilities as a Member of Congress, I would make sure this outrageous scheme never sees the light of day and have worked hard with partners like Senator Mike McGuire to keep that promise. 

Invest in Water Infrastructure

: Last week, I voted for the reauthorization of the 2022 Water Resources Development Act, or WRDA. This year's bill has some great wins for our district, including increased opportunities for the use of dredge material for wetland restoration in Petaluma, greater water storage for Lake Mendocino, directing collaborative engagement between the Army Corps and local ports, and over $90 million dollars for water infrastructure projects in the region. 

Protect Communities from Post-Fire Disasters

: Wildfire destruction is more than just what happens during the blaze. Burn scars are perfect sites for large-scale flooding or debris flows that further damage communities trying to rebuild. Alongside Senator Padilla, I introduced the Post-Fire Flooding and Debris Flow Act, which would ensure the government can help areas recover and avoid additional catastrophe. 

Invite All Student Coders:

My office is participating in this year's Congressional App Challenge, which is open to all middle and high school students. Students are encouraged to register online starting on June 15th and submit their original apps by November 1st. You can learn more about the App Challenge on my website.  

Celebrate Pride Month

: Everyone has the right to be treated with fairness, dignity, and equality – no matter who they are or who they love. And I'm proud to stand with all members of our LGBTQ+ community, both through my work in Congress – like passing the Equality Act – and supporting folks in our community doing amazing work to advance LGBTQ rights. This year, I had the honor of joining the Tyler Clementi Foundation as they awarded Marin's own Jake Bizzell the 2022 Upstander Youth Award for his leadership in raising awareness about the harmful impacts of bullying.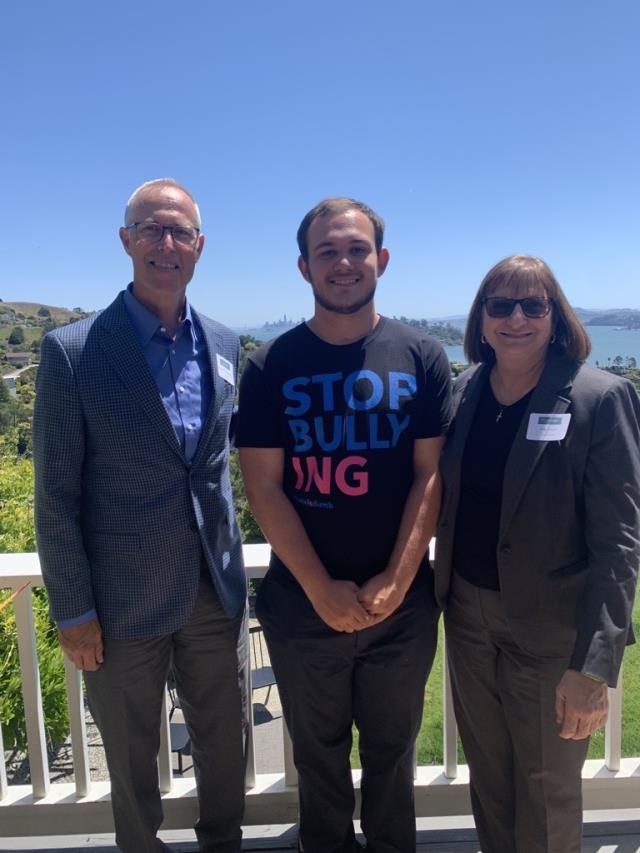 Rep. Huffman, Jake Bizzell, and Jane Clementi at Tyler Clementi Foundation Event to address bullying.  
Helping You
Whether it's help working with a federal agency, or providing information about legislation and policy, don't forget – my staff and I are here to help. Below is an example of some of the work my office has done to help our constituents. 
"Thank you very much to the Congressman and his staff for their assistance and perseverance in working with the IRS to obtain our refund.  I'm sure that without your help we would have been waiting many more months, and perhaps would never have been able to get someone to deal with the problem. In the midst of all of the political discord I have been heartened by your responsiveness and thank you for your exemplary service."   
– Ann Elston, Cloverdale  
If you're in need of assistance, you can submit a Casework Authorization Form on my website.  
 
If you would like to keep up with the work I am doing as your representative, please subscribe to my newsletter, and follow me on Facebook, Twitter, and Instagram. 
Best, 
Jared Huffman
Member of Congress
---
---
Next Article
Previous Article