On the Road with Congressman Huffman
September 08, 2023
Hello,

It's been a busy few weeks for me traveling across California's beautiful 2nd Congressional District - from Petaluma to Eureka and many places in between.  
Last week, I spent time in Covelo where I met with community leaders including the president and council members of Round Valley Indian Tribe. I also toured transformative infrastructure projects the Tribe is working on using federal grants. Thanks to investments from the COVID-19 economic stimulus package, the CARES Act, as well as the Bipartisan Infrastructure Law, the Tribe developed a new Emergency Operations Center and three cell phone towers. They're also expanding broadband to connect 726 tribal households, three tribal businesses, and seven tribal community anchor institutions. It's wonderful to see federal dollars in action in our community, and I'm proud to have voted for these pivotal pieces of legislation that are making a difference for the North Coast!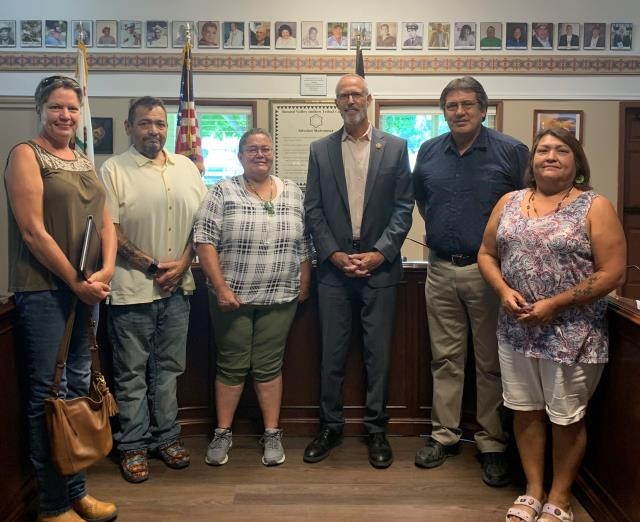 Rep. Huffman meets with Covelo community leaders. 
What Else Have I Been Working On? 
Supporting Watershed and Forest Ecosystems: I recently joined Hoopa Valley Tribe Chairman Joe Davis, USFS Chief Randy Moore, and USDA Undersecretary Dr. Homer Wilkes for a boat tour of our spectacular Trinity River. We visited the Hoopa Valley Tribe's Tsemeta forest nursery, where we learned about their tree re-planting and reforestation efforts. We also discussed some amazing opportunities for the Karuk, Hoopa, and Yurok Tribes to work with the U.S. Forest Service on fuels management and forest health, thanks to the billions in recent funding from Congress. 
Engaging with Constituents: Last week, I hosted a "Coffee with Your Congressman" at the beautiful new Little Lake –Willits Firehouse, where I shared an update on the latest from Washington. I always appreciate opportunities to engage with constituents, answer their questions, and listen to their suggestions and ideas, and I look forward to continuing these important conversations. 
Visiting Our Schools: I stopped by Trinity High School, where we discussed my bill, the IDEA Full Funding Act, which would fully fund special education. I also toured the campus and learned about the wonderful improvements they made during their latest renovation. During my visit to Petaluma High School, I answered thoughtful questions from students on a range of topics, including the climate crisis and our worsening wildfire seasons. I was especially impressed by the enthusiastic students who led an exceptional tour of the school's very own wildlife museum.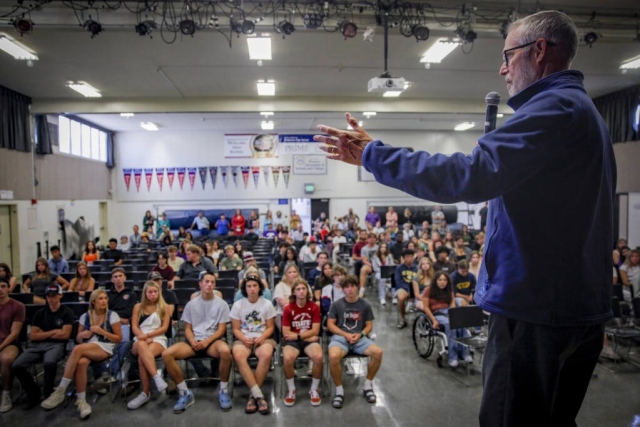 Rep. Huffman speaks to students during an assembly at Petaluma High School. 
 (Photo courtesy of the Petaluma Argus-Courier)
Helping You    
Whether it's help working with a federal agency, or providing information about legislation and policy, don't forget – my staff and I are here to help. Below is an example of some of the work my office has done to help our constituents.
"My wife and I were facing challenges scheduling an immigrant visa appointment at a Consulate abroad. With my wife unable to return to our family and her job here in the U.S., we felt stuck in a dire situation. We reached out to Congressman Huffman, and within a couple days the interview was scheduled. We next encountered problems receiving the visa and Congressman Huffman's staff intervened again, and my wife finally received her visa. We are grateful to Congressman Huffman for reuniting our family."   
- Daniel, San Rafael 
If you're in need of assistance, you can submit a Casework Authorization Form on my website. 
To keep up with the work I am doing as your representative, please?subscribe to my newsletter, and follow me on?Facebook,?Twitter,?Instagram, and my new account on Threads.   
Thank you, and stay well, 
Jared Huffman
Member of Congress
---
---
Previous Article