Federal Dollars in Action: A Message from Rep. Huffman
July 14, 2023
Hello, 

I have some great news to share from Washington – we recently received word that grants from the Environmental Protection Agency are heading our way for Bay Area restoration projects, solar energy expansion, and access to clean water for tribes. This is thanks to historic legislation signed into law during the last two years under the leadership of President Joe Biden and Democrats in Congress. You can expect to see more grants like this rolling in as we continue to deliver huge funding wins through President Biden's Investing in America agenda. Here are some details on the latest awards:  
$52 million in new federal funding for 24 projects around the San Francisco Bay to support habitat restoration, decrease pollution, safeguard communities from the threat of sea level rise, and improve climate resiliency;   
$7 billion for the Solar for All grant competition to increase access to affordable solar energy for millions of low-income households across the country; and 
$278 million to improve American Indian Tribes and Alaska Native Tribes' access to safe drinking water. 
I'm working hard to make sure our district gets its fair share of all the transformational investments we've signed into law. You can refer to my Grants Summary Guide for assistance with navigating the hundreds of grants and programs for which you might be eligible. 
Other Priorities I'm Working On: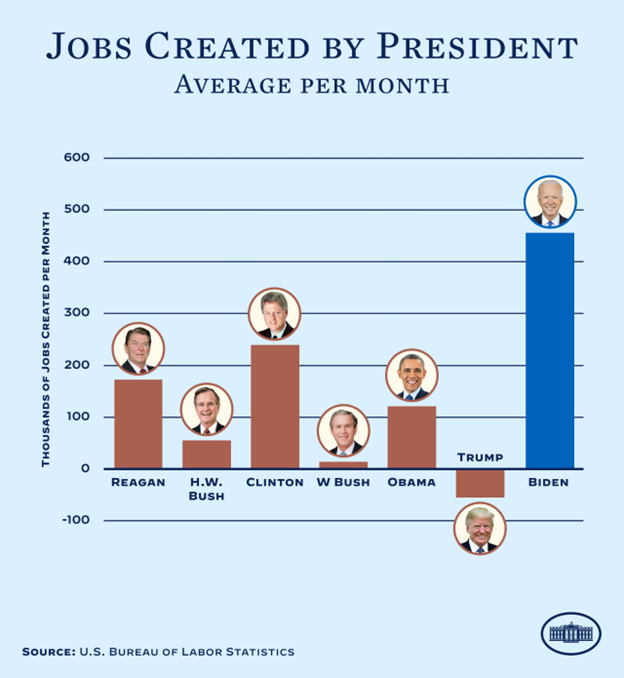 Source: twitter.com/WhiteHouse/status/1677324092691697671?s=20  
Historic Jobs Growth: The numbers from the latest June Jobs Report don't lie: Over 13.2 million jobs have been created since President Biden took office. We've not only regained all the jobs lost during the pandemic, but also have created nearly 4 million more. The unemployment rate fell to 3.6%, and wages continue to rise. Additionally, after decreasing for 12 consecutive months, annual inflation has now fallen to 3%, the lowest point in more than two years. This report is further proof that Democrats' economic agenda is working, and we'll keep building on this historic progress. 
Engaging with Constituents: I recently hosted a town hall in Gualala where I shared an update on the latest developments in Washington and answered a wide range of questions from our constituents. I always appreciate every opportunity to speak directly with folks back home about the issues they are passionate about – keep an eye out for more local town halls to come! 
Radical Supreme Court Rulings: The Supreme Court recently unleashed a host of extreme decisions, including dismantling affirmative action in admissions and undermining LGBTQ+ rights. These devastating decisions erode fundamental rights, condone discrimination, and will exacerbate economic inequities among low-income and working-class people in America. As the highest court in the land continues to operate without a code of ethics, it's clear that the extremist SCOTUS majority has been corrupted by wealthy special interests. This isn't just unacceptable-- it's entirely un-democratic, and I'll continue to push for common sense judicial reform.  
Helping You       

The federal investments I helped pass last Congress are making a real difference in our community. Here's one example of how these investments and grants are helping folks on the North Coast:   
"The Hoopa Valley Tribe is appreciative of the U.S. EPA for providing funding for the clean-up of long-standing logging activity that occurred on Tribal Lands.  By remediating this land, it provides the opportunity for reuse and redevelopment of the parcels in an environmentally sound and meaningful manner. Hoopa Valley Public Utilities District has been designated this land by the Hoopa Valley Tribe to expand critical utilities within the Hoopa Valley Indian Reservation. This clean-up and reuse will benefit this entire community and the Hoopa Valley Tribe's ability to manage and upgrade our infrastructure for future generations."   

- Linnea Jackson,  
General Manager for the Hoopa Valley Public Utilities District 
And don't forget: whether it's help working with a federal agency, or providing information about legislation and policy, my staff and I are here to help. If you're in need of assistance, you can submit a Casework Authorization Form on my website. 
To keep up with the work I am doing as your representative, please subscribe to my newsletter, and follow me on Facebook, Twitter, Instagram, and my new account on Threads.   

Thank you, and stay well,       
       
Jared Huffman   
Member of Congress     
---
---
Next Article
Previous Article