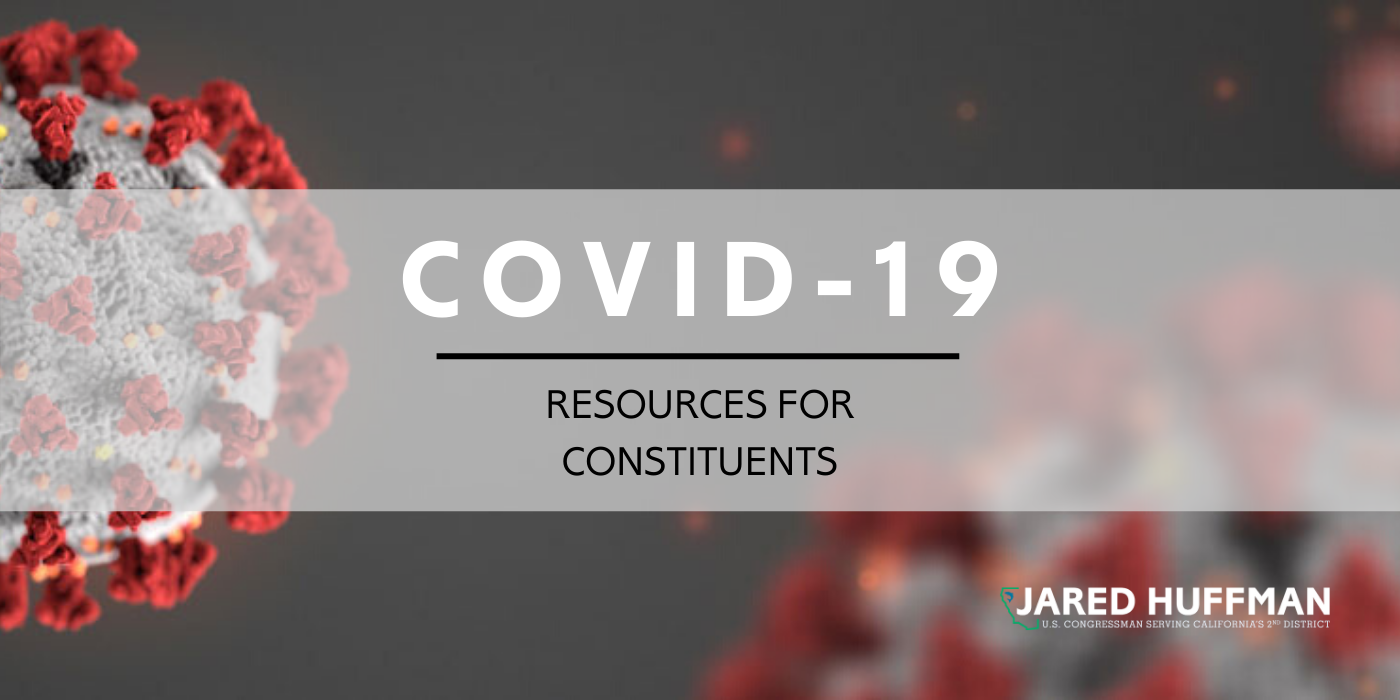 Coronavirus Response and Updates
I believe Americans deserve a coordinated, comprehensive, whole-of-government response to prepare for the spread of coronavirus. Our collective first priority must be public safety, and we must govern responsibly to meet the challenges facing our nation and its public health. Click here to learn more about the coronavirus, including tips for how you can stay safe.
I want you to know that my office is working with the local, state, and federal public health officials to assess our preparedness and ensure that we have the resources necessary to meet this challenge head-on. As always, my office is here to assist you with any questions, concerns, or issues you may be facing with federal agencies, and we will continue to share information with you as it becomes available. To receive more updates directly to your inbox, you can subscribe to my newsletter here.
Below are some important reminders from local public health officials, the State of California, and the Centers for Disease Control on how to prevent the spread of coronavirus. CDC en Español link here.
condition, stay at home and and has recommended the closure of bars, wineries, and other gathering places.
Special Enrollment Update (3/19/2020)
To help ensure that everyone has health care coverage during the coronavirus pandemic, Covered California announced that it is expanding its Special Enrollment Period. Effectively immediately, anyone who is uninsured and meets eligibility requirements for health care coverage through Covered California can sign up through June 30, 2020. If you aren't covered, visit https://apply.coveredca.com/lw-shopandcompare/ now.
California Shelter in Place (3/19/2020)
On the evening of March 19, Governor Newsom held a press conference to announce a statewide stay-at-home order. For more information on what this means and how this could impact your daily life, click here.
Recommendations from the Centers for Disease Control:
Do your part to slow the spread of the coronavirus. Even if you are young, or otherwise healthy, you are at risk and your activities can increase the risk for others. It is critical that you do your part to slow the spread of the coronavirus. Follow these guidelines to help slow the spread:
Listen to and follow the directions of your state and local authorities.
If you feel sick, stay home. Do not go to work. Contact your medical provider.
If your children are sick, keep them at home. Do not send them to school. Contact your medical provider.
If someone in your household has tested positive for the coronavirus, keep the entire household at home. Do not go to work. Do not go to school. Contact your medical provider.
If you are an older person, stay home and away from other people.
If you are a person with a serious underlying health condition that can put you at increased risk. Stay home and away from other people.
There is currently no vaccine to prevent coronavirus disease 2019 (COVID-19). The best way to prevent illness is to avoid being exposed to this virus. However, as a reminder, CDC always recommends everyday preventive actions to help prevent the spread of respiratory diseases, including:
Avoid close contact with people who are sick.
Avoid touching your eyes, nose, and mouth.
Stay home when you are sick.
Cover your cough or sneeze with a tissue, then throw the tissue in the trash.
Clean and disinfect frequently touched objects and surfaces using a regular household cleaning spray or wipe.
Follow CDC's recommendations for using a facemask.

CDC does not recommend that people who are well wear a facemask to protect themselves from respiratory diseases, including COVID-19.
Facemasks should be used by people who show symptoms of COVID-19 to help prevent the spread of the disease to others. The use of facemasks is also crucial for health workers and people who are taking care of someone in close settings (at home or in a health care facility).

Wash your hands often with soap and water for at least 20 seconds, especially after going to the bathroom; before eating; and after blowing your nose, coughing, or sneezing.

If soap and water are not readily available, use an alcohol-based hand sanitizer with at least 60% alcohol. Always wash hands with soap and water if hands are visibly dirty.
Experts have been working hard to understand this new strain of the coronavirus. Because new information is coming out every day, please visit the CDC's website to stay up to date.
CDC en Español link here.
Estas son algunas recomendaciones del CDC para evitar la propagación de coronavirus:
Evite el contacto cercano con personas enfermas.
Evite tocarse los ojos, la nariz y la boca.
Quédese en casa cuando esté enfermo.
Limpie y desinfecte los objetos y superficies tocados con frecuencia con un spray o toallita de limpieza doméstica regular.
Cúbrase la tos o estornude con un pañuelo de papel y, a continuación, tirelo a la basura.
Lávese las manos a menudo con agua y jabón durante al menos 20 segundos, especialmente después de usar el baño, antes de comer y después de limpiarse la nariz, toser o estornudar.
Si no tiene agua y jabón, use un desinfectante de manos a base de alcohol con al menos 60% de alcohol.
Travel Recommendations
Traveling during the COVID-19 outbreak should be avoided as much as possible, particularly international travel. If you absolutely need to travel and are unsure what to do, visit the State Department's website for more information.
If you are stuck overseas and having trouble getting assistance from the U.S., there are several important things you should do.
Register for the Smart Traveler Enrollment Program (STEP). STEP is a free service to allow U.S. citizens and nationals traveling and living abroad to enroll their trip with the nearest U.S. Embassy or Consulate.
Complete this privacy release for assistance from my office and email it to huffman.cascheduling@mail.house.gov.
Remain in possession of your U.S. passport
Adhere to local laws
Shelter in place
On March 11, the president signed a proclamation suspending certain travel to and from Europe. Additional guidance and updates on travel for U.S. citizens and non-citizens can be found here.
The CDC recommends travelers avoid all nonessential travel to China, South Korea, Iran and most of Europe.
Destinations with risk of community spread of coronavirus: Europe, China, Hong Kong, Iran, Japan, Singapore, South Korea, Taiwan, Thailand, Cruise Ship Travel in Asia.
While these recommendations are in place, it is important to also work together to eliminate the stigma and misinformation surrounding coronavirus that is affecting the Asian American community. The Asian American community is not at a higher risk of getting or spreading COVID-19.