Huffman Celebrates Lighting of U.S. Capitol Christmas Tree
December 01, 2021
Washington, D.C. – Today, Representative Jared Huffman (D-San Rafael) joined the California delegation in celebration of the U.S. Capitol Christmas Tree, an 84-foot white fir from Six Rivers National Forest in California's Second District.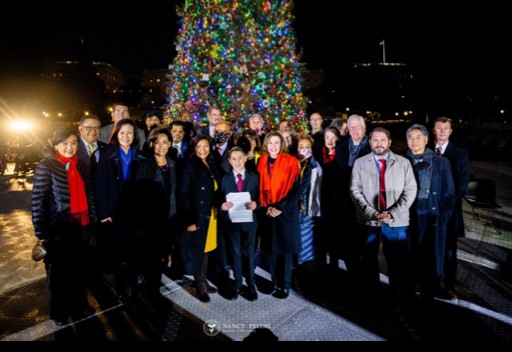 A recording of the tree lighting ceremony can be found here.
"Now I am very biased, I'll admit that out front, but I think I represent one of the most beautiful places in the world. And it is an honor – not just for me, but for all of my constituents – that we get to share a piece of that with the Capitol and the rest of the country this holiday season," Rep Huffman said at the lighting ceremony.  
"This year's tree is a symbol of the beauty and the importance of our nation's public lands. And it's a reminder of our responsibility to conserve public lands so everyone, including future generations, can continue to enjoy them. 
"I'm also very proud to have my constituent, fifth-grader Michael Mavris, with us here as our tree lighter tonight.  He won the essay contest to be the official tree lighter, and his heartfelt essay is a great addition to this holiday tradition. Michael, we're all very excited to watch you flip the switch here in a moment to light up Sugar Bear. 
"So thanks everyone for being here to celebrate this piece of our home. And special thanks to Six Rivers National Forest for sharing Sugar Bear with us and the country. Happy holidays."
After being harvested from the Six Rivers National Forest on October 23, the U.S. Capitol Christmas Tree traveled through California and across the country where it made stops at parks and plazas, schools, memorials and monuments, arriving in Washington, D.C. on November 19. Californians created 15,000 ornaments for the tree and its companions. Click here to learn more about the Capitol Christmas Tree.
---
---
Next Article
Previous Article