Huffman Tours the Future Hydrogen Fueling Station, Credits Humboldt Transit Authority for Taking the Lead in Zero-Emission Public Transportation on the North Coast
August 03, 2022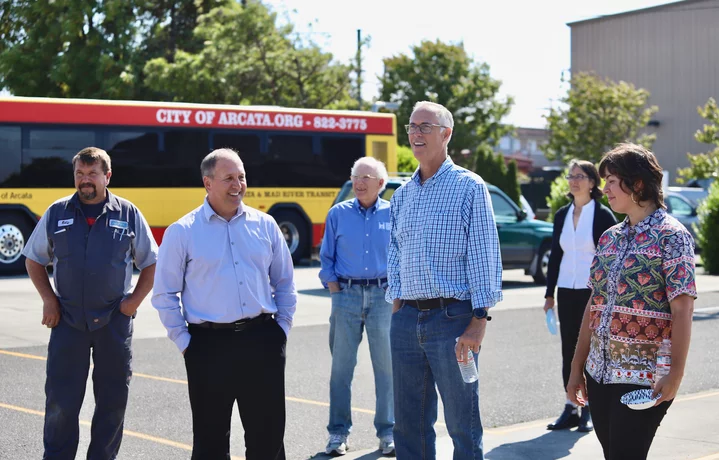 Whilst touring around Eureka on Tuesday, our very own Congressman Jared Huffman decided to pop by the Humboldt Transit Authority (HTA) to learn more about the agency's effort to bring clean energy to the North Coast.
The California State Transportation Agency (CalSTA) recently awarded a $38.7 million grant to the HTA to fund a fleet of zero-emission hydrogen fuel cell electric buses to replace existing diesel buses and connect riders to Mendocino County and, ultimately, the San Francisco Bay Area. The chunk of cash will enable the purchase of 11 state-of-the-art buses and the installation of a hydrogen fueling station.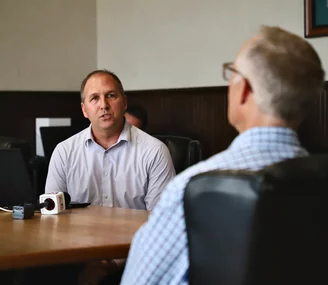 Pratt
"We brought on the Schatz Energy Research Center to help us out determine what type of bus is going to work in a rural setting," Greg Pratt, general manager at the HTA, told Huffman during a presentation. "They did a comparative analysis with electric and hydrogen and it became clear that the electric just didn't have the range that a rural route needs, so we really started pushing the path to hydrogen."
The HTA bought its first electric bus in June 2019. While the bus provides daytime service between College of the Redwoods and Cal Poly Humboldt, it does not have the capacity to take on a longer route. The new buses, which will be supplied by Alabama-based bus manufacturer New Flyer, can travel upwards of 300 miles.
Peter Lehman, founding director of the Schatz Energy Research Center at Cal Poly Humboldt, said his team is working with New Flyer to develop a bus with a larger fuel cell and more hydrogen stores on board.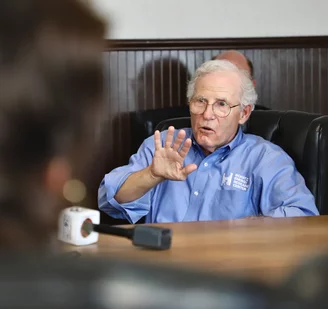 Lehman
"It will revolutionize not only Humboldt County but the nation," Lehman said. "This new bus will be a big deal in transit all over the country because a lot of rural agencies have the same issues that [we have]."
But how will we get hydrogen up to our rural neck of the woods? Pratt said the transit authority is looking to contract with Air Products to truck in up to 18,000 gallons of liquid hydrogen once per week.
One of the main criticisms of hydrogen-fueled technology is the cost of hydrogen, which is nearly double the price of diesel. Even still, "hydrogen will get you further," Lehman said. "You've got to remember that the efficiency is greater, so you're getting almost twice the mileage with hydrogen buses."
"Do you imagine a long-term scenario where you're cracking hydrogen up here locally?" Huffman asked.
"That's the goal," Lehman said.
The HTA has also been working with transit authorities throughout Northern California to create a multi-county integrated fare payment system – Redwood Coast Express – with fare capping to further incentivize the use of public transportation and limit the burden of fares for the rider.
"If you start in Del Norte and you come down to Humboldt and get about halfway through you won't have to pay anymore. You just continue on," Pratt said. "Same thing for the week. If you [spend] $20 in fares in a week, that's your cut off and you can ride as much as you want for free. For the month it would be like $50."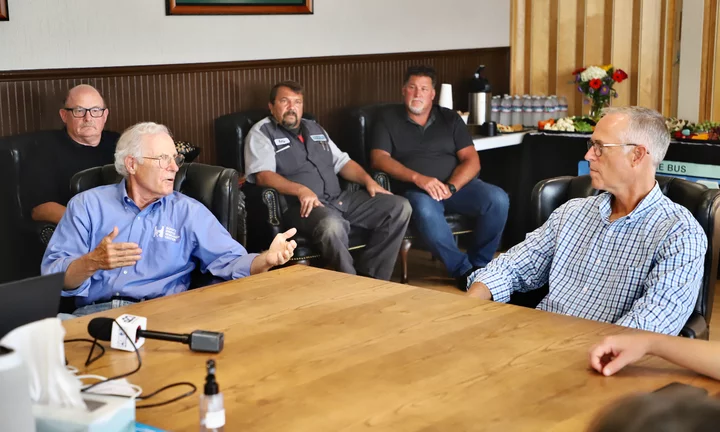 In addition to enhancing transit connectivity throughout Northern California, the grant will give the multimodal EaRTH Center a much-needed financial boost. The Eureka Regional Transit & Housing Center, popularly known as the EaRTH Center, which will serve as the City's future mass transit hub and provide housing for students, traveling medical staff and working residents.
Eureka City Councilmember Natalie Arroyo noted that the future site of the EaRTH Center on Third Street between G and H streets already functions as the primary location for transfers. 
"It's kind of a transit hub right now, but there's no place for people to get information about transit hub or a place to do ticketing…so it will be one location where people can safely wait," she said. "And it'll contribute to the safety of the site as well, just having people living there, coming and going all hours with security. There's really a lot of advantages to that."
Before embarking on a brief tour of the future hydrogen fueling station, Huffman credited the county for leading the charge in the push toward renewable energy.
"There's some exciting work underway here with Humboldt Transit Authority," he said. "I think Humboldt is really on the leading edge of zero-emission transit."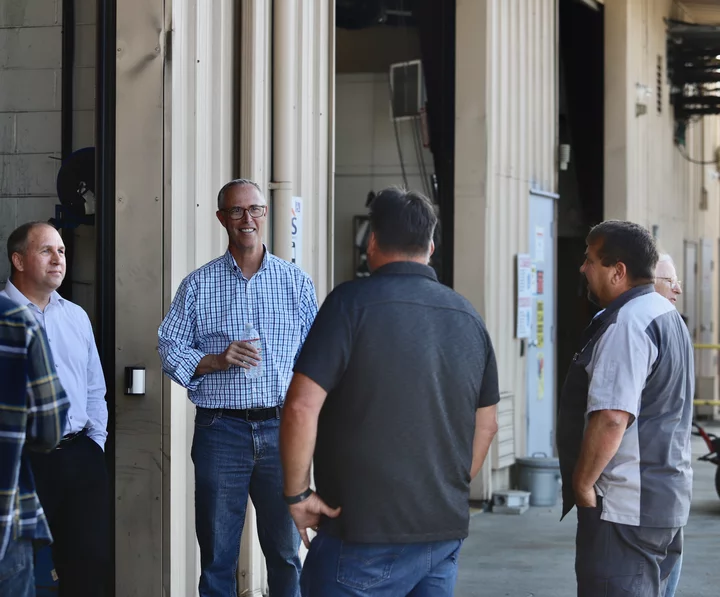 By: Isabella Vanderheiden
Source:
Lost Coast Outpost
---
---
Next Article
Previous Article