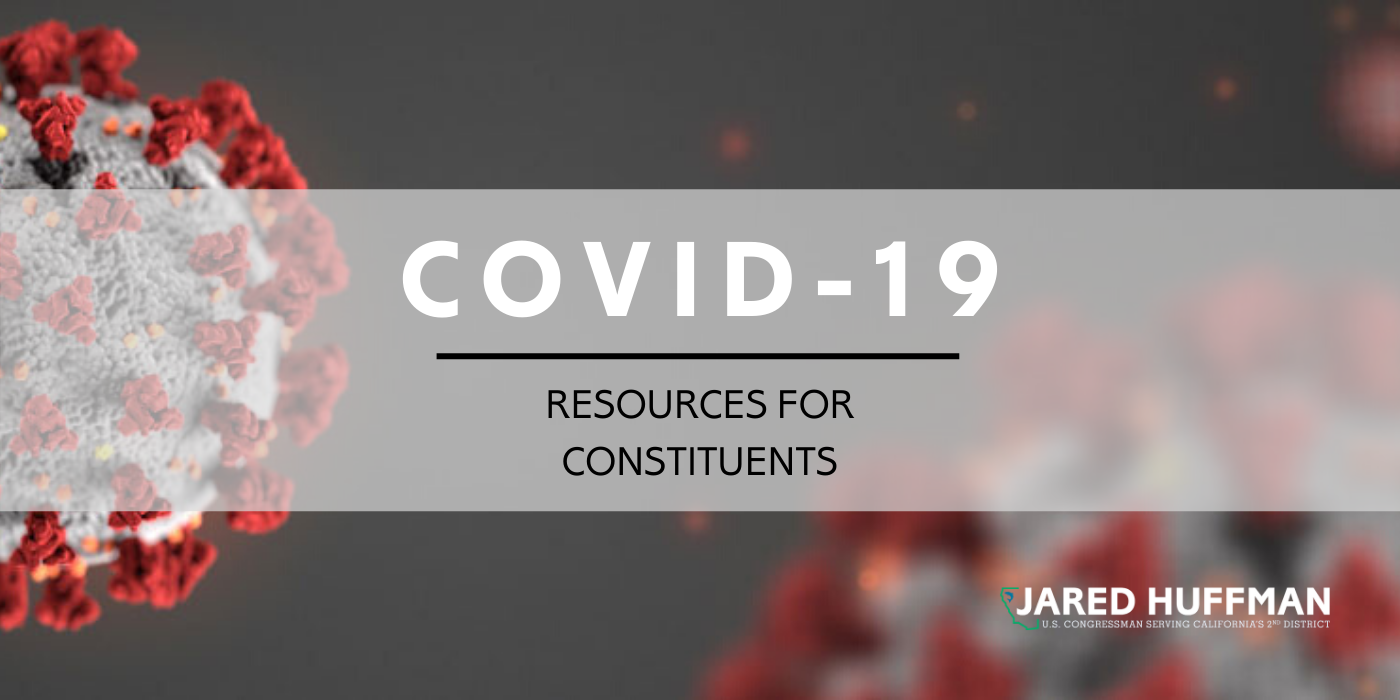 Welcome
I believe Americans deserve a coordinated, comprehensive, whole-of-government response to prepare for the spread of coronavirus. Our collective first priority must be public safety, and we must govern responsibly to meet the challenges facing our nation and its public health. Click here to learn more about the coronavirus, including tips for how you can stay safe.
I want you to know that my office is working with the local, state, and federal public health officials to assess our preparedness and ensure that we have the resources necessary to meet this challenge head-on. As always, my office is here to assist you with any questions, concerns, or issues you may be facing with federal agencies, and we will continue to share information with you as it becomes available. To receive more updates directly to your inbox, you can subscribe to my newsletter here.
Below are some important reminders from local public health officials, the State of California, and the Centers for Disease Control on how to prevent the spread of coronavirus. CDC en Español link here.
Legislative Updates
The Heroes Act (5/15/2020)
House Democrats have unveiled bold, far-reaching legislation that will protect the lives and livelihoods of the American people and the life of our democracy – responding to the pandemic and the economic catastrophe that has followed:
Commits another $75 billion for the testing, tracing and

treatment we need in order to have a science-based path to safely reopen our country and helping

to secure access to

free coronavirus treatment

for every American

.

Provides strong support for our heroes

with nearly $1 trillion for state, local, territorial and tribal governments on the frontlines who desperately need funds to pay the health care workers, police, fire, transportation, EMS, teachers and other vital workers who keep us safe and are in danger of losing their jobs. The Heroes Act will also establish a $200 billion Heroes' fund to ensure that essential workers receive hazard pay.

Puts money in the pockets of workers

with a second round of direct payments to families up to $6,000 per household, new payroll protection measures to keep 60 million workers connected with their jobs and extending weekly $600 federal unemployment payments through next January.

Supports small businesses

by strengthening the Payroll Protection Program to ensure that it reaches underserved communities, nonprofits of all sizes and types and responds flexibly to small businesses by providing $10 billion for Covid-19 emergency grants through the Economic Injury Disaster Loan program.

Ensures further support for Americans, including for:

health security

–

with COBRA subsidies and a special enrollment period in the ACA exchanges for those without insurance

.

workplace security

– requiring OSHA to ensure that all workplaces develop science-based infection control plans and preventing employers from retaliating against workers who report problems.

housing security

– with $175 billion in new supports to assist renters and homeowners make monthly rent, mortgage and utility payments and other housing-related costs.

food security

– with a 15 percent increase to the maximum SNAP benefit and additional funding for nutrition programs that help families put food on the table.

Protects the life of our democracy

with new resources to ensure safe elections, an accurate Census, and preserve the Postal Service.
PPP and Health Care Enhancement Act (4/23/2020)
On April 23, the House passed an interim emergency funding package that will provide the emergency resources that are desperately needed to sustain the life and death fight to protect the lives and livelihoods of the American people.
The initial proposal left behind hospitals and health workers, and did nothing to ensure the survival of small businesses. But Democrats flipped this emergency package and achieved an agreement that follows the path set by the bipartisan CARES Act with real support:
For small businesses: we have strengthened the Paycheck Protection Program with $310 billion in additional funding, with $30 billion reserved for community-based lenders, small banks and credit unions and $30 billion for medium-sized banks and credit unions. We are expanding small business support beyond PPP by securing $50 billion for SBA disaster lending, translating into more than $350 billion in loans, and $10 billion in SBA disaster grants. We have also secured strong protections to ensure that our nation's farmers have access to this vital assistance.

For hospitals and health care workers: Democrats have secured $75 billion to provide resources to the frontlines, including Personal Protective Equipment. The Administration has also agreed to key improvements to be made in CARES 2, including significantly lowering the interest rate on advance payments, lengthening the repayment schedule and distributing payments from general revenues not the Hospital Insurance Fund.

For all Americans: we have secured $25 billion for testing, which is the key to reopening the economy and resuming our lives. The Administration has agreed to a national strategic testing policy that will focus on increasing domestic testing capacity including testing supplies.
Recommendations from the Centers for Disease Control:
Do your part to slow the spread of the coronavirus. Even if you are young, or otherwise healthy, you are at risk and your activities can increase the risk for others. It is critical that you do your part to slow the spread of the coronavirus. Follow these guidelines to help slow the spread:
Listen to and follow the directions of your state and local authorities.
If you feel sick, stay home. Do not go to work. Contact your medical provider.
If your children are sick, keep them at home. Do not send them to school. Contact your medical provider.
If someone in your household has tested positive for the coronavirus, keep the entire household at home. Do not go to work. Do not go to school. Contact your medical provider.
If you are an older person, stay home and away from other people.
If you are a person with a serious underlying health condition that can put you at increased risk. Stay home and away from other people.
There is currently no vaccine to prevent coronavirus disease 2019 (COVID-19). The best way to prevent illness is to avoid being exposed to this virus. However, as a reminder, CDC always recommends everyday preventive actions to help prevent the spread of respiratory diseases, including:
Avoid close contact with people who are sick.
Avoid touching your eyes, nose, and mouth.
Stay home when you are sick.
Cover your cough or sneeze with a tissue, then throw the tissue in the trash.
Clean and disinfect frequently touched objects and surfaces using a regular household cleaning spray or wipe.
Follow CDC's recommendations for using a facemask.
Wash your hands often with soap and water for at least 20 seconds, especially after going to the bathroom; before eating; and after blowing your nose, coughing, or sneezing.

If soap and water are not readily available, use an alcohol-based hand sanitizer with at least 60% alcohol. Always wash hands with soap and water if hands are visibly dirty.
Experts have been working hard to understand this new strain of the coronavirus. Because new information is coming out every day, please visit the CDC's website to stay up to date.
Travel Recommendations
Traveling during the COVID-19 outbreak should be avoided as much as possible, particularly international travel. If you absolutely need to travel and are unsure what to do, visit the State Department's website for more information.
If you are stuck overseas and having trouble getting assistance from the U.S., there are several important things you should do.
Register for the Smart Traveler Enrollment Program (STEP). STEP is a free service to allow U.S. citizens and nationals traveling and living abroad to enroll their trip with the nearest U.S. Embassy or Consulate.
Complete this privacy release for assistance from my office and email it to huffman.cascheduling@mail.house.gov.
Remain in possession of your U.S. passport
Adhere to local laws
Shelter in place
On March 11, the president signed a proclamation suspending certain travel to and from Europe. Additional guidance and updates on travel for U.S. citizens and non-citizens can be found here.
The CDC recommends travelers avoid all nonessential travel to China, South Korea, Iran and most of Europe.
While these recommendations are in place, it is important to also work together to eliminate the stigma and misinformation surrounding coronavirus that is affecting the Asian American community. The Asian American community is not at a higher risk of getting or spreading COVID-19.